Eminem, news & rumours on the 9th album's and the Rap God's new Genius annotations
The latest news about Eminem's 9th album, the rapper's OCD and his interesting and funny new Genius annotations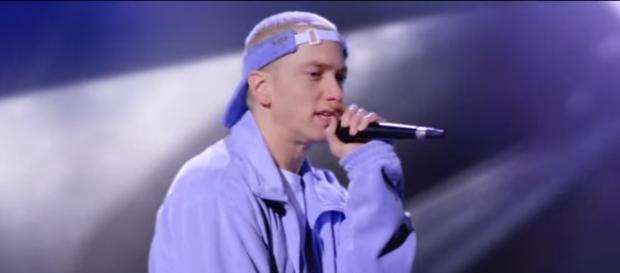 Let's see the latest rumours and news on Eminem's 9th album: according to a Vine Report the Rap God already recorded several tracks; Eminem also wrote many interesting Genius annotation about some of his songs as well as his next album's title and his obsessive-compulsive disorder.
News on Eminem's new album
According to Vine Report, some rumours are suggesting that Eminem already recorded 8 new tracks of his next studio album, one of them with his protégé 50 Cent. Apparently the Rap God is spending most of his time working on his new, most-awaited album.
According to a previous report by Media Mass, however, the new album is still in early stages, which suggest that it is not going to be released anytime soon. Since there isn't any official confirmation, we can only speculate that the new album [VIDEO] is likely going to be released at the end of 2016, or in the first months of 2017.
Eminem joke about the 9th album's title
Recently Eminem shared some verified annotations on Genius posts. In one of his comment, the Rap God said he doesn't know why people have suggested for his next album titles like "Empower" or "Empart".
"This has been said to me so many times over the years", wrote the rapper, "if I were to name an album with such a stupid play on my name it obviously should be called Empanada…".
The rapper OCD is a real thing
In another Genius annotation about his song "The Monster" (in which the Rap God wrote "My OCD is conking me in the head"), Eminem said: "I really do have O.C.D. it's not funny b**ch". OCD, obsessive-compulsive disorder, is a disorder characterized by uncontrollable thoughts and repetitive behaviours that one feels forced to perform. Checking the stove again and again, checking if the lights are off again and again, these are some OCD's typical behaviours. Obsessive-compulsive disorder's thoughts are often irrational, nonetheless, the one who suffers from this feels the urge to repeat them over and over.
Eminem's comment about his Infinite album
In an older Genius annotation Eminem explained that when they put Infinite out, it was local. They expected to be able to "get something with it", and when that didn't happen it was "really deflating". Eminem was upset, in particular, because people were saying that he "sounded like AZ and Nas. "For a rapper to be compared to someone, for people to say that you sound like someone else — nobody wants that", the Rap God wrote.
"I remember getting mad", Eminem added. "I was like, 'I'm gonna rap like I don't care anymore. F*** it'". And this is how he started angry songs like "Just Don't Give a F***" in that period.
Eminem's Genius annotations are always interesting and frequently funny. Another interesting story about the Rap God and Royce 5'9'' recently surfaced; if you want to know more about it check our previous article on how much Royce was helped by Eminem during his darkest moments.
Click to read more
and watch the video
or