'Doctor Who' news & videos: John Barrowman hints his return and falls off chair on live TV
Doctor Who news round-up: watch Captain Jack crashing to the ground on live TV and recording something with Jackie Tyler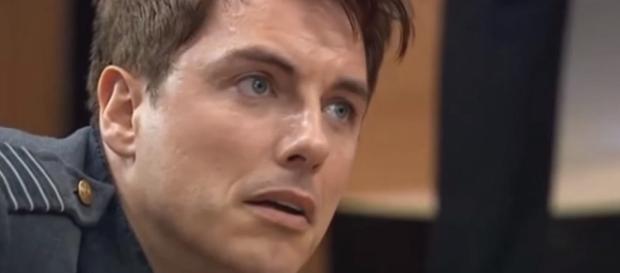 Today's Doctor Who news round-up is focused on John Barrowman; Captain Jack Harkness in the last few days hinted a return in the next Doctor Who Christmas Special, recorded a mysterious audio adventure with Camille Coduri (aka Jackie Tyler) and - last but not least - he fell off a chair on live TV.
Doctor Who news: Captain Jack will return in the Christmas Special 2016?
John Barrowman played a very popular character in Doctor Who's previous seasons and lots of fans are asking for a return of Captain Jack Harkness in the British show.
Maybe the time has come.
Besides the rumours hinting to a possible appearance of Captain Jack in the next Christmas Special, we now have a hint coming directly from Barrowman.
The actor recently posted a video on Facebook in which he thanks the fans after a signing session in Cardiff and hints: "I'll be in Cardiff in about a week and a half… but I'm not telling you what for!"
Cardiff is the place where a possible return of Jack Harkness is likely going to be filmed... After River Song's return in Christmas Special 2015, could 2016's festive episode of Doctor Who focus on Jack's return? That seems totally possible now.
Captain Jack and Jackie Tyler's audio adventure
John Barrowman recently tweeted a picture of him and Camille Coduri (Jackie Tyler, Rose's mum in Doctor Who) having fun in a recording studio. It's still unclear what audio adventure they were recording, but Barrowman used the hashtag #DrWho in his tweet. That suggests that the next Big Finish Audio adventure, set in the Doctor Who universe, will feature Jack Harkness once again.
Here's the tweet:
What is happening here?? In the studio?? #DrWho Camille Coduri and JB pic.twitter.com/IH5q7P5bUF

— John Barrowman MBE (@Team_Barrowman) 19 maggio 2016
John Barrowman hilarious video: watch the Captain's fall on live TV
If you love John Barrowman you can't miss his epic fall on live TV. Here's the video of his hilarious appearance on Loose Women Friday on May 20, 2016:
Doctor Who: The Tenth Doctor Adventures launch trailer
A few days ago Big Finish published the launch trailer for Doctor Who: The Tenth Doctor Adventures audio drama, featuring David Tennant and Catherine Tate (the Tenth Doctor and his companion Donna). The trailer introduces three new audio adventures: Technophobia by Matt Fitton, Time Reaver by Jenny T. Colgan and Death and the Queen by James Goss.
Click to read more
and watch the video
or