'DC's Legends of Tomorrow' season 1 episode 13 highlights: 'Leviathan'
Rip and the Legends take a massive risk by confronting Savage in 2166.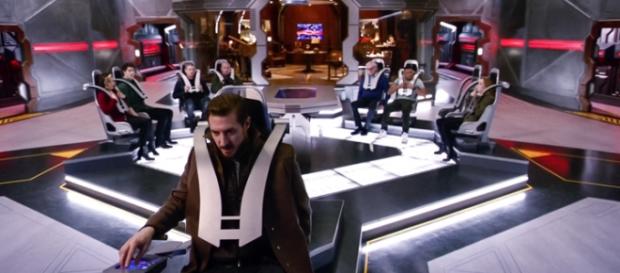 This week on a new "DC's Legends of Tomorrow" season 1 began to wrap up in an epic episode titled, "Leviathan." By the sheer amount of action and big screen antics that were on display this week you could have sworn you'd turned in to a different show than we've seen the last few weeks, especially compared to the painfully slow western-themed episode we bore witness to recently. With "Leviathan," the show regains momentum lost previously and re-engages the viewers with the type of episode we should expect every week from a show based on comic books.
This quick recap of the highlights will get you up to speed on the basics of the episode, which is worth watching for the finer details.
London 2166 is a dangerous place in time
When the Waverider appears in 2166 it faces an immediate bombardment from Savage's forces, who try to turn the ship and the Legends into a pile of useless junk.
After a few moments, Gideon, the ships ever so friendly interactive artificial consciousness, moves the Waverider to an altitude where they won't get pounded as hard by artillery. It's clear they aren't welcome and 2166 is a hostile location in space and time. The introduction of actress Jessica Sipos and her characterization of Cassandra Savage was a treat, and it will be interesting to see just how far she will betray her father in the end.
Kendra hesitates and prolongs the battle
The Savage and Kendra fight was a bit of a letdown, because just as she could have ended things, she gives up in hopes to save Carter, who she recognized as one of Savage's reincarnated and brainwashed cronies. The choice in the end showed how selfish Kendra can be, and she put herself before the team and history.
Of course, the show does have three more episodes this season, so we all knew the Savage story wouldn't be wrapped up this episode, or perhaps even this season, if at all. If there's no Savage then Rip and the Legends would have little to do for a second or third season, assuming the show makes it that far without being cancelled. Maybe Rip has a plan that can still save his family now that Savage is a hostage aboard the Waverunner.
Leviathan versus giant Ray
Everyone loves it when big robots fight, so when Savage sends his massive Leviathan to attack, and Ray super-sizes himself to combat the gigantic enemy, it's kind of epic. The obviously expensive CG scene is the sort of thing we should be seeing every week on the show. We know how useful Ray can be when he shrinks, and now we know just how invaluable he can make himself when he reverses course and makes himself into a one man Voltron. When Ray slices off the head of the Leviathan it's as satisfying of an ending to a robot battle as you'd expect.
Click to read more
and watch the video
or