Could WWE's Edge play Marvel Comics character Cable in 'Deadpool 2' next year?
The 'Rated-R Superstar' would like to be in the sequel to the biggest R-rated movie of all time.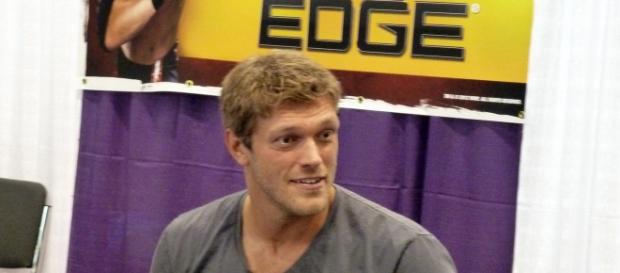 February's Deadpool was a complete game-changer in the very hot world of comic books being portrayed on the silver screen. As an off-shoot of the X-Men film series, it set records as the highest-grossing film of the X-Men franchise and the highest-grossing film ever to receive an R-rating. While summer blockbusters based on Marvel Comics such as Captain America: Civil War and X-Men: Apocalypse are designed for a fairly broad, family-friendly audience, Deadpool (and the anticipated Deadpool 2, which is almost certain to feature Ryan Reynolds battling someone portraying Marvel's villainous Cable) is designed specifically for a more "mature" audience.
Next on-screen nemesis.
As the post-credits of Deadpool clued viewers into the idea of Cable as Deadpool's next on-screen nemesis, they also offered some suggestions for who could play the "big guy with a flat-top," including such iconic actors as Dolph Lundgren, Mel Gibson...
and Keira Knightley. Ron Perlman expressed interest in the role, with acting experience that includes the titular character in the Dark Horse Comics-based Hellboy movies and the racist Reinhardt in the Marvel Comics-based Blade II. Suggesting the role of Lady Deadpool, Bella Thorne has even expressed interest in playing a part in the Deadpool franchise. 
But thanks to a recent Twitter conversation, members of the WWE Universe who have been following Vince McMahon's brand since the Attitude Era of the late 90s are hoping to see Adam Copeland — better known to the rest of the world as former WWE Champion Edge — as the time-travelling Marvel bad-guy up against the anti-hero Deadpool in the film's highly-anticipated sequel.
I'd like to see @EdgeRatedR as Cable for the @deadpoolmovie sequel. #Marvel Think it would be really interesting. pic.twitter.com/VLqhndkpbb

— Christina Freeman (@analise77) May 17, 2016
Yeah I could behind that https://t.co/AFsGw8ce6d

— Adam (Edge) Copeland (@EdgeRatedR) May 27, 2016
'Edge' as a WWE Superstar.
For die-hard fans of Marvel Comics that aren't familiar with the goings-on of World Wrestling Entertainment, Adam Copeland is still referred to simply as "Edge" on WWE programming.
Edge debuted on WWE programming in 1998, as the Attitude Era was reaching its peak with superstars like "Stone Cold" Steve Austin, The Rock and Degeneration-X. He wrestled for WWE until an injury forced him to retire from in-ring action in 2011. Among many other accolades, Edge was an 11-time world champion, 14-time tag team champion, and a 2012 Hall of Fame Inductee.
Since leaving in-ring action, Edge has stayed active within WWE, most recently as the co-star of The Edge and Christian Show That Totally Reeks of Awesomeness on the WWE Network.
Adam Copeland as an actor
Forced to leave in-ring competition, Adam Copeland found work as an actor. Before beginning his show on the WWE Network with long-time friend and tag team partner Christian Cage, he was Dwight Hendrickson on Haven for four seasons. Last year, he played DC Comics character Albert Rothstein/Atom Smasher on an episode of The Flash, proving he has the ability to convincingly portray a super-villain.
Latest updates on Deadpool 2
There is still plenty of time for Marvel Entertainment and 20th Century Fox to figure out who they want to star opposite Ryan Reynolds in the Deadpool sequel.
Edge's size would be a new look for the traditionally jacked-up super-villain, but Marvel has been rethinking a lot of their characters, including a female Wolverine in Marvel Comics. Keira Knightley might seem like a stretch, but Marvel re-imagined lawyer Jeryn Hogarth as Jeri (Carrie-Anne Moss) in Daredevil, so anything is possible.
Sequel.
Few details have been released about Deadpool 2. It was confirmed in April that the sequel is already in development, with filming expected to begin in the Fall. Aside from the inclusion of Cage, director Tim Miller and producer Simon Kinberg have talked about a Spider-Man crossover. However, with Spider-Man's inclusion in the Marvel Cinematic Universe for Captain America: Civil War, that Marvel match-up may never come to fruition on the silver screen.
Following X-Men: Apocalypse, the next film in the series is expected to be another Wolverine film, which could very possibly include a cameo from Ryan Reynolds as Deadpool.
Click to read more
and watch the video
or