Claire Holt returning to 'The Originals' for Season 3 finale [Spoilers]
The trailer for the final episode of 'The Originals' Season 3 features Rebekah Mikaelson, and she will fight for her brother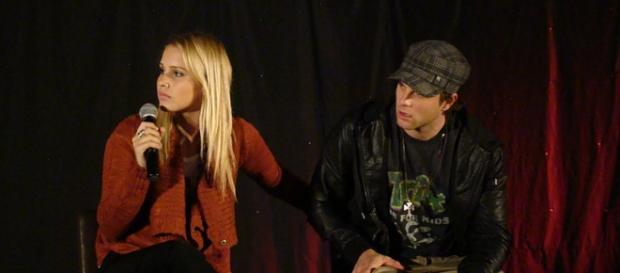 Fans have known that a person from Marcel's past will affect his decisions in The Originals Season 3 finale. It looks like the speculations that Rebekah Mikaelson would return are true, as Claire Holt is featured in the trailer.
Many fans have wondered when and how Rebekah would return. The last she was seen, Elijah stabbed her through the chest to make sure one part of the prophecy came true in a way that would suit them. Her body was then taken to an undisclosed location, although Klaus knew and later moved her to the bayou.
There has always been the question of when and not if she would return to The Originals, and it appears the season finale is the time.
Marcel betrayed by the Mikaelsons
Marcel has felt betrayed by the Mikaelson's since Davina's death in Episode 20.
Freya and Elijah chose their brother and Hayley over Davina, meaning her spirit returned to the ancestors, who were able to rip her soul to pieces. It turns out that Davina may not be completely gone, as showrunner Michael Narducci has said there are still plans for her.
Marcel was not the only one angry with the decision, but the only one able and willing to take the next step to putting the Mikaelsons in danger. After Vincent gave him the serum taken from Aurora's heart, he happily drank it. Now he is an Uber Original, and the Mikaelsons have everything to fear. Freya even made a point to say that she cannot stop him once he drinks the serum and becomes like Lucien.
How does Rebekah play into all this?
With Rebekah out of the game for so long, there are many who wonder why she even needs to come back.
It looks like she will come in to save Klaus after Marcel puts him on trial for his atrocities throughout the centuries. At the end of the trailer for The Originals Season 3 finale, she tells Marcel that she wants to speak on Klaus' behalf.
She will also be needed back if this prophecy is about the demise of the entire Mikaelson family. If nobody else knows where her body is, how can they get rid of every single member? Rebekah may also be the one to help Marcel make a level-headed decision. She has always been able to talk him down from the ledge. There have been times she has been against her brothers, so for her to speak for Klaus must mean that she has something powerful to say.
The Originals wraps up its 3rd season on Friday, May 20, 2016, a week after parent show The Vampire Diaries aired its 7th season finale. Fans will get to see if and how the Mikaelsons stop the prophecy about their doom.
Click to read more
and watch the video
or