Award-winning actor Alan Young has passed away
Comedy actor Alan Young, well known as Wilber of "Mr. Ed" has died at the age of 96.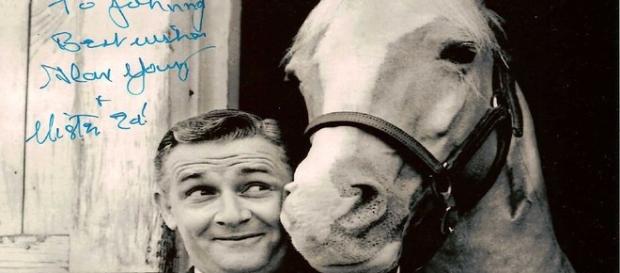 Emmy Award-winning actor Alan Young has passed away. He is best remembered for his comic role of Wilbur, the wonky owner of a horse that talked in "Mister Ed," in the 1960's television serial. Alan passed away on the 19th of May at his residence in Woodland Hills at the Motion Picture & Television Home. He was 96 years old.
Mr. Young had given his voice to Disney's Scrooge McDuck and other famous cartoon characters. He died of natural causes said the home spokesperson Jaime Larkin.
His children were at his bedside.
Wilbur of Mister Ed
Because of his good looks and charming personality, Alan Young received supporting roles in films in the late 1950s. He won the Emmy Award for the best actor for a television series for his variety show "The Alan Young Show." However, Young's career was on a downswing when he was signed by "Mister Ed" producer Arthur Lubin.
Lubin always told Young that he was hired because one of Lubin's producer friends, comedian George Burns, told him that Young looked like a person a horse would talk to. Young, who first turned down the proposal saying that he did not want to work with a four legged co-star, later agreed to do it. He went on to own a portion of the show and made a huge fortune from of it.
Early success for the actor in radio
Alan was born on November 19th, 1919 in Tynemouth, England and he and his family later moved to Scotland where he grew up. Young was bedridden for a good portion of his childhood because of asthma related problems. He was very much interested in radio comedy programs and by the age of 17 he was already writing and performing his own show, "The Alan Young Show," on the Canadian Broadcasting Corp.
radio variety comedy program.
Appearance in feature films
Mr. Young worked in movies like "Margie," Mr. Belvedere Goes to College," "The Time Machine," and "Tom Thumb." Young also did a cameo appearance in "Beverly Hills Cop III" along with Eddie Murphy. In the late 1960s, Young worked with churches in California and helped with their TV, radio and film department.
Mr. Young was very friendly with fans and in interviews he spoke about fans who questioned how they made the horse move its mouth when he talked. He kept it a secret for a long time but finally revealed that it was with the help of an animal trainer, Lester Hilton.
Alan Young's personal life
Young and Mary Anne Grimes married in 1940 and they had a girl and a boy. In 1947 the couple divorced. Young went on to marry Virginia McCurdy in 1948, and the relationship resulted in another son and daughter. That relationship ended in divorce as well and he later married Mary Chipman, which also, unfortunately, ended in divorce. He is survived by his four children. It was stated that his children were with him when he passed.
Click to read more
and watch the video
or