Arsenio Hall to sue Sinéad O'Connor over allegations of Prince's death
Incidents were started after the Irish singer claimed Hall gave the late singer drugs.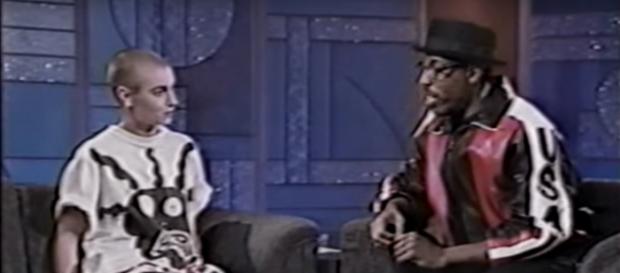 Controversial Irish songstress, Sinéad O'Connor, is in hot water for comments she made over the late pop-star, Prince, and it may cost her $5 million dollars in a libel suit over a post on her Facebook profile.
Likely spurred to make such a message by news of the U.S. Attorney's office and Drug Enforcement Administration reportedly investigating the nature of Prince's death, O'Connor had accused comedian Arsenio Hall this past Monday of supplying Prince with drugs, going so far as to refer to Hall as "Prince's and Eddie Murphy's bitch" and mocked those who thought the late singer was not a drug-user as having been "living in cloud cuckoo land." She also claimed in the post that she had been given a spiked drink years ago at Eddie Murphy's home.
Said post has now been removed from Facebook.
A day later, on Tuesday, she then wrote a 1,400-word rant insulting Hall even more directly, notably making fun of his name.
This is not the first time O'Connor has made defamatory claims against Prince; she also is known to have once claimed that he attacked her person and possibly stalked her after she released a cover of his song "Nothing Compares 2 U," which is often viewed as O'Connor's breakout hit.
Hall's reaction
Hall had initially denied O'Connor's claims in a released statement from his representatives. One, Traci Harper, derided the claims against her client as being utterly "false, ridiculous and absurd." Hall is now planning a libel suit against O'Connor, which in order to be successful, has to prove that O'Connor's claims are baseless, untrue, and have caused proven harm against Hall's reputation.
The defamation suit, which seeks $5 million in damages, claims that the claims made by O'Connor have spread internationally and, fulfilling the requirement of proving possible harm, that such accusations could also have potentially brought harm to Hall's career in media. In an attempt to prove the falsehood of the claims, it is also said that Hall had not encountered O'Connor in around 25 years, possibly referring to when she appeared on his show in 1991:
Reportedly, Hall's lawyers are also trying to make use of the fact that O'Connor is known for her controversial actions in the media, such as tearing up a picture of Pope John Paul II during a live performance on Saturday Night Live, in an attempt to prove that she is known as someone who likes  to draw attention to herself.
To add to the conflict, the fact that O'Connor is an Irish citizen may complicate putting the lawsuit into action as Hall is based in the United States. Regardless, O'Connor has not currently responded to the lawsuit.
Click to read more
and watch the video
or