Angry Birds to be made into Movie
Rovio's popularly addictive game Angry Birds the movie premieres May 20th.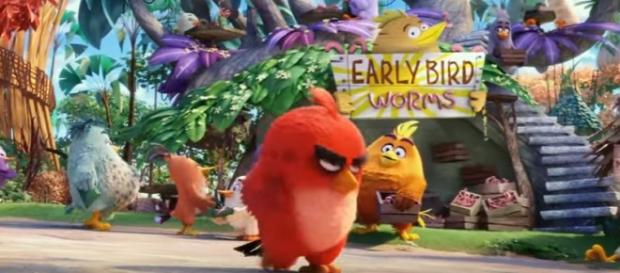 "Angry Birds" Franchise
Rovio's Angry Birds, which originally debuted on the iPhone then migrated to the Android market, ensured that there was no way of escaping this addictive game. Now they're making a movie based on the game coming to theaters on May 20th, and fans really seem to be looking forward to it. 
The story
According to the official website "The movie takes us to an island populated entirely by happy, flightless birds – or almost entirely.
In this paradise, Red, a bird with a temper problem, speedy Chuck, and the volatile Bomb have always been outsiders. But when the island is visited by mysterious green piggies, it's up to these unlikely outcasts to figure out what the pigs are up to." And with this all-star cast (Jason Sudeikis, Josh Gad, Danny McBride, Sean Penn, Keehgan-Michael Key, Bill Hader, and Peter Dinklage) this movie promises to deliver a fun and entertaining movie-going experience.
The games
Lots of games get turned into movies these days. Some do well and some don't, but fans of this franchise seem to think this one will be a success.
Rovio offers two flavors of their famous game, one advertising driven, the other offered for a reasonable price with no advertisements on the market. Rovio has also expanded their product line and now offers advertising driven versions of the game, such as Angry Birds Rio and Angry Birds Seasons and Angry Birds Star Wars. They've capitalized on becoming one of the best game apps by building a very simple, yet utterly addictive casual game experience.
This game, simply put, is all about dropping angry birds on top of the heads of pigs that have stolen their eggs. That said, with a charming art style, and a deceptively complex game mechanic they keep the player coming back for just one more try at each level. The game uses birds with different abilities, flung at bricks of different materials in order to create levels that can be frustrating, yet utterly rewarding when you find the perfect fling and manage to drop the entire structure on the head of one of the villainous pigs.
Since your goal on each level is a score-driven 3 star system, there is a certain satisfaction when you see the score rack up from that single flung bird. Rovio continues to maintain their runaway hit, and since they keep adding additional levels and advertising-driven versions of this game, it looks like this addictive game is not going anywhere anytime soon.
Click to read more
and watch the video
or