'2 Broke Girls' season 5 episode 21 highlights: 'And the Ten Inches'
Rate this title
Lisa Lampanelli guest stars as pizza parlor owner Angie and causes trouble for Max and Caroline.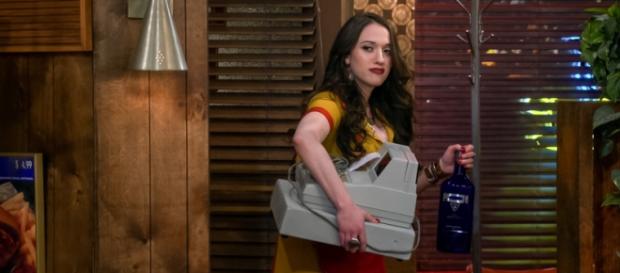 This week on a new "2 Broke Girls" season 5 lingers along with an episode titled,  "And the Ten Inches." The lights go dark in the diner at the start of the episode. Han is worried someone will loot the diner, but Caroline assures him that won't happen. As the lights come back on, Max is seen at the door with a bottle of vodka in one hand and a cash register in the other.
Sophie is put on bed rest
Work continues on the dessert bar and Oleg and Sophie stop by the window on their way home. Sophie tells everyone that she's gained 15 pounds since she became pregnant and the doctor is worried about the baby, so she's going to go home and lay in bed.
Oleg is a bit more graphic about the situation and says it's potentially a lot like a watermelon falling through a plastic bag from a grocery store. The two scurry off and Randy shows up to check in on the process of renovations at the dessert bar.
The dessert bar isn't big enough
It's obvious to everyone but Max and Caroline that the dessert bar is tiny, and Randy asks where the bar is going to fit once all of the construction is done. Caroline says they have 10 feet for the bar, but Randy looks at the blueprints and corrects her that she has only ten inches of space. Max jokes that it's the first time she's been disappointed with ten inches. Moments later the owner of the pizza parlor shows up at the window and starts yelling that the construction is ruining her pizza business and causing chaos in the office space next door.
Lisa Lampanelli portrays an Italian woman
The pizza parlor owner is Angie, an opinionated and tough Italian woman portrayed on the show by none other than comedian Lisa Lampanelli. It turns out Angie is willing to let things slide if Randy takes her to an upcoming high school reunion and Max and Caroline escort her twin brother Angelo. While at the reunion, Max and Caroline become stereotypical Italian women, complete with fake accents, big hair and Italian mannerisms. It's a bit over the top, even for a show that takes numerous comedic risks. Nevertheless, Max has a fake fight with Angie over Randy, which makes Angie look good to her classmates and friends, and Caroline gets Angelo to agree to let them rent the back office on the other side of their adjoining wall, giving the dessert bar much needed space to actually have a bar. At the end of the episode their total cash funds tumble from $250,072.00 down to $31,000.00, but the girls are on their way to realizing their new dream business.
Click to read more
and watch the video
or