It's time to practice your cardio and stockpile your Twinkies. The comedy horror Zombieland might be making a return to theaters with a sequel. Multiple reports are claiming that the film will be shot this summer and both the writers and one of the stars have expressed interest in a second film.
Eisenberg and the writers are ready
During The Q & A with Jeff Goldsmith podcast at the Los Angeles Film School in February, Zombieland fans got some background on the original film and a possible sequel from writers Rhett Reese and Paul Wernick. They were there to discuss their latest hit, Deadpool but naturally, the subject turned to the long awaited Zombieland sequel. The first film came out in 2009 and since then, fans have been rabid for more.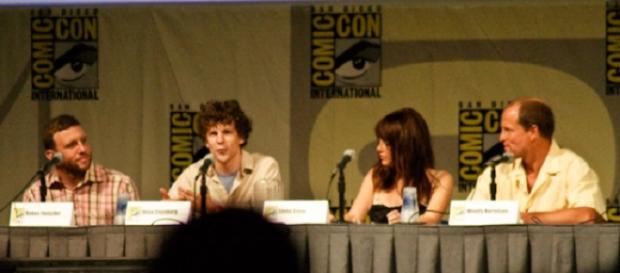 Apparently, the sequel script has been written for years, but snipets were used to make the now failed Zombieland pilot on Amazon instead, which featured four different actors in the principle roles. Another script was in the works but Reese and Wernick led fans to believe that it wasn't quite ready yet.
"It's actually still in development at Sony, they've had a couple of writers take a crack at it, we're still executive producers and we're guiding and helping where we can and, yeah, I think there's still very much talk about it, but I think it has to be right," said Reese.
"I think all the actors and [Zombieland director] Reuben [Fleischer] all feel like there's not reason to do it again if we're not getting it exactly right."
Currently, several casting websites are posting notices that Zombieland 2 is set to begin filming this summer in Atlanta, Georgia. Actor Jessie Einsenberg, who starred in the first film, has already expressed interest in returning to the film in a February interview with Entertainment Weekly (EW).
"I would hope that it happens, and I'm sure everybody would be happy to do it if it happens and it's good. It's also a strangely beloved movie, so it's a thing you have to get right," said Einsenberg.
Zombieland fandemoneum
When news hit the web today that production was to begin this summer, fans were psyched. Zombieland 2 was trending on Facebook and fans began posting the new logo for the film on Twitter. Sony revealed the logo at CinemaCon in mid-April ahead of the news of the sequel's projected summer production.
An Internet Movie Database (IMDB) page has already been created and was updated today for the film, but there are no details about the cast as of yet.
Sony unveiled the Zombieland 2 logo at CinemaCon pic.twitter.com/mx04o0Qrif

— Rose (@jupiterizing) April 18, 2016
For those who aren't familiar with the 2009 surprise hit, Zombieland is like an American version of Shaun of the Dead. Everyone has aliases based on where they're from and trust issues in spades, but somehow this team of misfits manages to band together to take down an army of zombies. There's Tallahassee (Woody Harrelson), the rebel with a Twinkie fetish, the nerdy survivalist Columbus (Eisenberg) and his love interest Witchita (Emma Stone) because you can't have a film with Eisenberg in it where the nerd doesn't get the hot chick.
Abigail Breslin rounds out the cast as the youngest member, Little Rock.  
Mostly, the film is a bunch of rules for surviving the zombie apocalypse and new and hilarious ways for killing them. Bill Murray made an awesome and memorable cameo in the film. However, in the podcast, Reese an Wernick revealed that Murray was not their first choice. They cycled through Patrick Swayze, Joe Pesci, Mark Hamil and Matthew MacConaughey before deciding on Murray. In total, there were 12 other actors who declined before Murray was ever chosen. While all of those actors would have been awesome, it's hard to imagine the film without the lovable Ghostbusters alum. For now, fans will have to practice their patience in anticipation of the film release, which currently has no projected date. In this case, rule #32 applies perfectly.  
Bill Murray got screwed out of a Best Supporting Actor Oscar for Zombieland. pic.twitter.com/FSRVxL1BPI

— Accordion Man (@Accordion617) April 3, 2016
We all know Tallahassee's #Zombieland food of choice is Twinkies. What would you put in your food stash? pic.twitter.com/iTLcjk53mt

— Zombieland (@Zombieland) April 13, 2013