Ted Cruz trolled in new campaign ad, claims he hates women, 'likes Nickelback'
Sen. Ted Cruz has come under fire for allegedly liking the band Nickelback, as well as his position on abortion and gay marriage.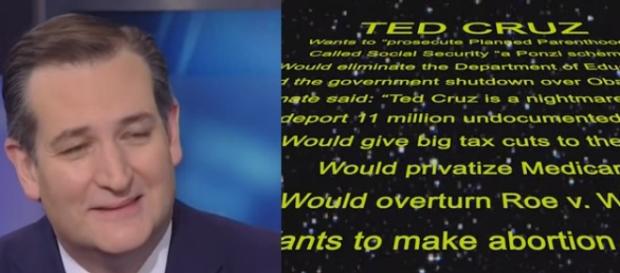 Texas Sen. Ted Cruz has had an interesting two months on the campaign trail. From a personal feud with Donald Trump, to fighting off allegations from the National Enquirer about alleged sexual affairs, Cruz is now being trolled by a pro-Hillary Clinton super PAC.
Cruz's favorite band?
After a mini-surge in the GOP primary, the senator from the Lone Star State was clobbered in the New York primary. While Cruz failed to walk out of the Empire State with any delegates, Trump added to his total and came closer to being named the Republican nominee.
As reported by The Hill on April 22, Cruz was the butt of a humorous new political ad.
Pro-Clinton super-PAC ad: Cruz likes Nickelback and hates avocados https://t.co/5wzbL8znxO pic.twitter.com/mOBD4wTzms

— The Hill (@thehill) April 23, 2016
The ad, released by pro-Clinton super PAC Priorities USA, is set in the style of "Star Wars," with the words scrolling up in front of a background of stars.
Ted Cruz's name is written in big, bold, yellow letters, providing a list of Cruz's "accomplishments." The ad points out Cruz's anti-women stance, stating that he wants to "prosecute Planned Parenthood" who would want to "overturn Roe v. Wade."
Going further, the ad focused on Cruz's opposition to Social Security and the Department of Education, before taking a more humorous tone. In what would be considered the funny-side of the ad, Cruz is linked to not liking avocados, and, heaven forbid, be a fan of the music band "Nickelback."
Nickelback brief
Formed in Canada in 1995, Nickelback has been criticized in recent years for creating music that sounds too often similar to previous tracks. Despite the criticism and jokes that come their way, Nickelback has been nominated for six Grammy awards, sold over 50 million albums, and was ranked the second best selling foreign band in the United States, with only The Beatles performing better.
Primary status
After his defeat in New York last Tuesday, Cruz's 559 delegates have mathematically eliminated him from securing the party's nomination. Trump is the odds on favorite with 845 delegates, but if Cruz and Ohio Gov. John Kasich can't prevent the billionaire real estate mogul from reaching the required 1,237 needed, a brokered convention will occur.
Click to read more
and watch the video
or