'MIB 23' is the latest film crossover that will have you shaking your head
Sony announces '21 Jump Street' and 'Men In Black' crossover film that will feature stars, Jonah Hill and Channing Tatum.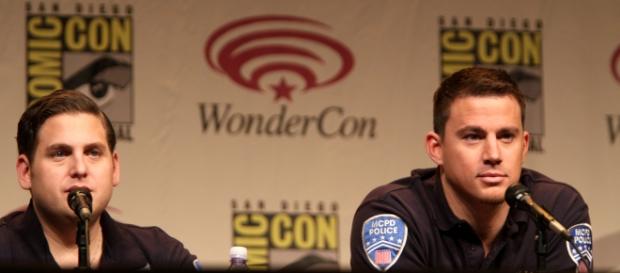 In news of the weird and yet another sign that Hollywood is running out of ideas, comes the latest laughable crusade. "MIB 23" is name coined for the "Men In Black" and "21 Jump Street" crossover. The film is set to star both "21 Jump Street" stars, Channing Tatum ("Magic Mike")  and Jonah Hill ("The Wolf of Wall Street"), and word is that Will Smith ("Concussion") and Tommy Lee Jones ("Captain America: The First Avenger") will not reprise their "MIB" roles.
Absurdity at its best
"MIB" has already had three sequels.
"21 Jump Street" is a film adaptation of an 1980's television show starring a young Johnny Depp ("Alice Through The Looking Glass"), and it has one sequel. Naturally, the big wigs in Hollywood thought they could combine the two screen franchises and create a crossover film that will milk both franchises for as much money as possible.
The problem is that "Jump Street" is about two cops fighting crime in the real world and "MIB" is about two FBI-type agents fighting aliens. So it's "Cowboys Vs. Aliens" in present day.
Originally, the concept for the crossover started out as a joke with Hill's Schmidt and Tatum's Jenko going undercover as dance students, veteran trainees or as medical students. After all, in the first film, they went undercover as high school students and in "22 Jump Street," they posed as college students. The Sony 2014 hack leaked information that a crossover was in the works but no one pictured this.
The news of title and the actual production was announced at CinemaCon 2016 in Las Vegas earlier this week. This caused confusion because the two premises are unrelated. Sure, technically both films are buddy cop films, but one film is a comedy and the other is a sci-fi.
If this was a Marvel film crossover, the characters wouldn't even be in the same universe. So real or not, many still see this film as a joke.
Where's Will Smith?
This is the second sequel that Smith originally made great, that will not feature the actor. "Independence Day: Resurgence" is scheduled to come out in July 2016, 20 years after the first film. Almost all of the original cast will return except for Smith. Director Roland Emmerich explained that, "In the very beginning, I wanted to work with him and he was excited to be in it, but then, after a while, he was tired of sequels, and he did another science fiction film, which was his father-son story, so he opted out." Obviously, the father-son story, which Emmerich mentions is the horribly reviewed and panned, "After Earth." Given that "MIB 23" is both a sci-fi and a sequel, it's a safe bet that fans won't be seeing Smith's name attached to the project. Remember Smith is still smarting from not getting an Oscar nod for "Concussion," the biopic about pathologist Dr.
Bennet Omalu who discovered the correlation between brain damage and football. It's likely that Smith has his eyes on Oscar and he's never going to win one with another summer blockbuster, which is what both of these films are. Also, even if Smith wanted to do the film, Variety reported, "that younger, fresher faces are being sought out."
For his part, Tatum told Vanity Fair that he and Hill would only reprise their "Jump Street" roles on one condition. "Me and Jonah did say that we would only make the movie if we could do 'The Fugitive' shot for shot, line for line and have (Rob) Riggle break character." Sounds like the concept for '24 Jump Street'.
Will Smith and Tommy Lee Jones unlikely to return for the MIB/Jump Street crossover. #MIB23 #MovieNews pic.twitter.com/kq7Yii5YKi

— Popcornography (@PopCorn_Media) April 14, 2016
Click to read more
and watch the video
or