Man in Panda costume shot by Baltimore police outside TV Station
25 year old man with Armageddon illusion barged into a TV station in Baltimore and was shot by the Police.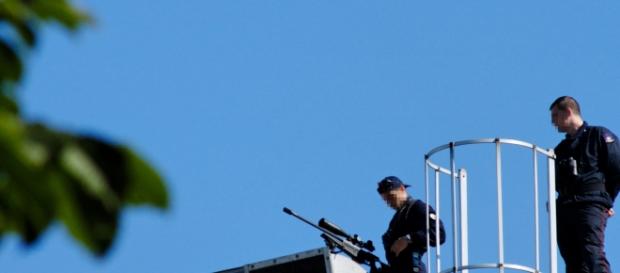 Alex Michael Brizzi, a 25 year old man, believed that the world would come to an end on the 3rd of June and that drove him to the Fox TV Station in Baltimore to warn the public of the impending apocalypse.
Dressed in an animal suit and carrying what looked like a bomb, he threatened to blow up the TV station at Fox 45 building, if his recorded statement was not allowed to go on air to pass his message to the world.
The police found videos on a flash drive that Brizzi was attempting to have aired by the News Channel.
Baltimore Police Commissioner Kevin Davis reveled that the videos were of Brizzi ranting about the Armageddon, and the very little time that was left before the end of the world.
A suicide vest made of candy
Brizzi wore a surgical mask and a jacket with a fake suicide vest, which was ingeniously designed to look like the real McCoy, made from candy bar wrappers and some bits of wires. The police believed the threat to be real, evacuated the building and surrounding areas before they took down Brazzi. Snipers of the Baltimore Police department hit him with 3 quick shots, which luckily did not kill him. After taking control of the situation and realizing Brizzi was still alive, the police immediately rushed him to the hospital.
The police said that this bizzare stunt will have him face a number of charges, which also include attempt to cause bodily harm, possessing a phony destructive device, arson and reckless endangerment.
Police Commissioner Kevin Davis has not identified the officers who fired but said they have been placed on routine administrative leave pending an investigation.
Brazzi was mentally ill
Michael Brazzi, Alex's father, claimed his son was mentally distraught after a romance went sour and he began to hallucinate about the end of the world. A week earlier he was found asleep in the neighbour's back yard and it took at least 7 policemen to subdue him. His parents were unable to force him to seek medical attention as he is not a minor.
Recovering
Alex Brazzi has been hospitalized at the University of Maryland Shock Trauma and his health is said to be serious but stable.
Click to read more
and watch the video
or