John Kasich snaps, starts stuttering, scolding reporters after being called 'desperate'
Reporters grilled John Kasich for his recent alliance with Ted Cruz, and the governor of Ohio didn't handle it well.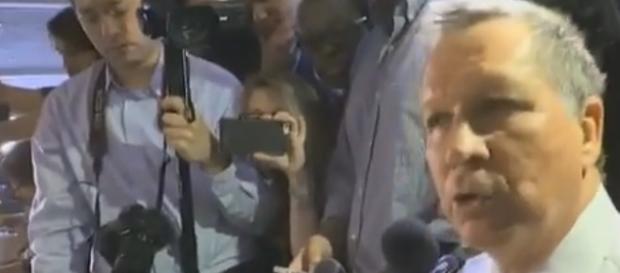 When the news broke late Sunday night that Ohio Gov. John Kasich and Texas Sen. Ted Cruz would be teaming up in a joint effort to prevent Donald Trump from winning the Republican nomination, many wondered if the duo would be successful. Trump quickly responded and was not happy, and Kasich was questioned on the situation while campaigning in Pennsylvania Tuesday morning.
Cruz-Kasich Alliance
Kasich only holds 148 delegates, and with Cruz's 559, both candidates are mathematically eliminated from locking up the nomination before the Republican National Convention in Cleveland, Ohio this July.
Trump, and his 845 delegates, is the only remaining candidate that can reach the 1,237 delegates needed to secure the nomination, but the Cruz-Kasich alliance to end "Trumpamania" is being supported by many establishment leaders.
Trump called the team "sad" and full of "desperation," something Kasich was questioned about during a campaign stop in Philadelphia on April 25, as captured live on CNN
Kasich loses it
Surrounded by reporters while he was eating his breakfast at a local diner, Kasich asked "Whats the big deal?" when he was questioned about teaming with Cruz. "The fact is, we don't have all the resources in the world," Kasich said, explaining, "I feel that it's very fair for me to be able to go to areas where I can spend my resources most effectively, and the same is true for Sen. Cruz."
"I'm not desperate, are you?" -- John Kasich talks to reporters about teaming up with Cruz https://t.co/azi8jDaD1w https://t.co/ZQeEI8pRjr

— CNN Newsroom (@CNNnewsroom) April 25, 2016
Reporters started asking Kasich various questions, to which the governor started to stutter with obvious frustration.
"I...I...I...I'm sorry. I...I...I...Ya know, I'm not gonna answer more than one!." Kasich would go on to lecture the reporters, telling them to have some "civility" when doing their jobs.
(The full video of the incident is available above.)
When one reporter chimed in, stating, "This sounds like desperation," the governor of Ohio started to lose his temper. "Me!?" Kasich fired back at the reporter, saying, "I'm not desperate, are you." Kasich asked again, "Are you desperate?"
Primary status
With Kasich and Cruz going to their last resort and coming together, Trump's message of a party conspiracy and bias against him has only been validated. In recent campaign speeches, the billionaire real estate mogul has highlighted what he calls an alleged "rigged" system, pointing out how he has won primary states by large voting margins, but hasn't been able to gain as many delegates. Even if Trump walks out the winner at the convention, most recent polls show him struggling against Democratic candidates Hillary Clinton and Bernie Sanders.
Click to read more
and watch the video
or