'Jill & Jessa: Counting On' season 1 episode 8 recap
Surprise visits, family photos, video chats, travel to St. Louis, and rapping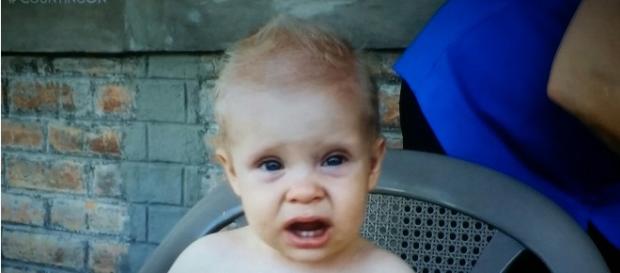 Episode 8 of Jill & Jessa: Counting On, titled "Ben Drops Beats" opens with a surprise visit from Jim Bob and Michelle to Jill, Derick, and Israel in Central America. Israel gets his first haircut while they are there and he doesn't seem very happy about it.  Israel's mood improves and he is full of smiles when Michelle sings and claps for him. Jill and Derick are currently attending language school and working on their ministry in Central America. Jill hints that maybe they will be coming home over the summer, or maybe the family will be visiting them.
Pictures and playhouses
Jinger takes photos of Sierra's family at the Glass Chapel in the Woods with the help of Jessa. Taking photos of 5 kids is pretty complicated.
Jessa carries Spurgeon on her front in a carrier while she helps to distract Sierra's kids. Jinger has been interested in photography for years and has taken engagement, maternity, baby, and now family photos. Some of the shots she gets are absolutely priceless.
John David continues to work on the massive playhouse he is building for the kids, but they are delayed by ice. Jessa and John David bicker over air conditioning, insulation, electricity, and plumbing. John David feels pressured to get the playhouse done as soon as possible as the kids want to play, and so does he as he points out. Several of the Duggar girls help in the building by measuring and cutting boards with a table saw.  Anna and the younger kids bring the workers some hot chocolate to warm them up from the cold. It sounds like it might be quite a bit longer before they finish the playhouse.
Ben and Spurgeon are rap stars
Ben and Jessa travel to meet up with a Christian rap artist, Flame, in St. Louis. Ben is a huge fan of Christian hip hop. Ben notes how he is interested in inner-city ministries. Spurgeon is such a happy baby and coos on the bed while he watches mom and dad pack. The Seewald's travel by plane to St. Louis and Spurgeon sleeps peacefully on the flight. They arrive at the sound studio and meet up with Flame. Spurgeon makes his rap debut in the studio, cooing into the microphone. Next up in the booth is Ben. Too put it nicely, he is horrible. With the help of auto tune, the producer creates a short song, "Believe It" by Spurge featuring Ben.
In a short interview with several of the older Duggars, they are asked what hip hop is. It's quite funny to listen to them try to explain it, as none of the Duggars have ever listened to hip hop with the exception of Jessa now. Eventually, Anna gives a somewhat decent description fed to her by the sound guy.
Video chats help the family feel closer
Jinger, Joy Anna, Jana, and Anna try to reach Jill and Derick via video chat.
They are not able to connect to them at first and they all voice the concern they feel in not being able to reach them. Eventually they are able to get the call to go through and they chat with Jill and Israel, or Izzy, as Anna calls him. Israel is learning Spanish and recognizes certain Spanish words. During the video chat you learn the family will be traveling down to Central America on a mission trip. She requests some sleepers for Israel along with some random items like a fly swatter and cayenne pepper.
Click to read more
and watch the video
or