Israel Dillard, son to Jill (Duggar) and Derick Dillard turns one
Israel Dillard's first birthday, Jill (Duggar) Dillard shares photo on family blog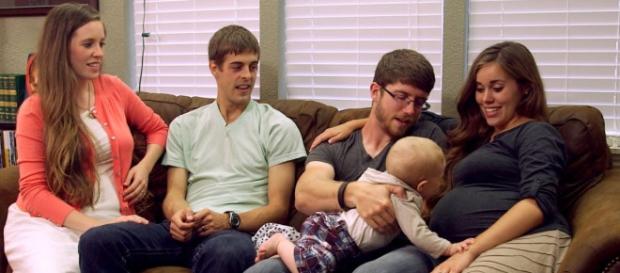 Son celebrates first birthday
Israel David Dillard is celebrating his 1st birthday today. The Dillard parents, Jill (Duggar) and Derick, posted on their family blog today about the celebration they had for him on Sunday.  On the blog, Jill shares photos of Israel, legs covered in the homemade cake (Betty Crocker Delights, French Vanilla flavor) she made for him. It also looks like Derick's mom, Cathy Dillard, aka Grandma C, came for the birthday celebration. According to People, although the birthday party with friends and family was held on Sunday, they also plan to celebrate with Israel tonight with a party at the church featuring a pinata. 
Israel Dillard was born April 6th, 2015.
Jill, whom at the time was a student midwife, wanted nothing more than to have a home birth.  Unfortunately, due to complications, Jill ended up giving birth to Israel at the hospital via C-Section.
Israel was born at 11:49 pm and weighed in at 9 lbs 10 oz.
Jessa (Duggar) Seewald shared a photo on her Twitter account, @JessaSeewald, today of a screen shot of her and her son, Spurgeon Seewald wishing Israel a happy birthday via video chat. Jill did not have any updates on her Twitter account about Israel's birthday.
Happy 1st birthday, Israel!😍 Love & miss you! 💞 Wish we could be there to celebrate with you! #happyfirstcakeday 😜😋 pic.twitter.com/U92jBmtzvc

— Jessa Seewald (@JessaSeewald) April 6, 2016
Jill (Duggar), Derick, and Israel Duggar are featured on TLC's "19 Kids and Counting" spin off show, "Jill & Jessa: Counting On." The show focuses on Jessa (Duggar) Seewald and Jill (Duggar) Dillard, along with many of the other Duggar sister's, including Jinger, Joy Anna, Jana, and sister-in-law, Anna Duggar.
The shows seems to focus mainly on the daughters that still live in Arkansas, but it also has short updates from Jill, Derick, and Israel from Central America, where they are currently living for a long-term mission trip.
Jill is looking very thin in the photos she posted on the family blog today. Could she be pregnant again and morning sickness is the cause of her weight loss? Jill and Derick often discuss adoption on the TV show. Could a pregnancy throw a wrench in their plans?
Jill & Jessa: Counting On airs Tuesday nights at 9/8C.
Click to read more
and watch the video
or