Bruce Springsteen calls 10-year-old girl up on stage to sing
The Boss has a really big heart and he proved it once again at his closing night at the Barclays Center in Brooklyn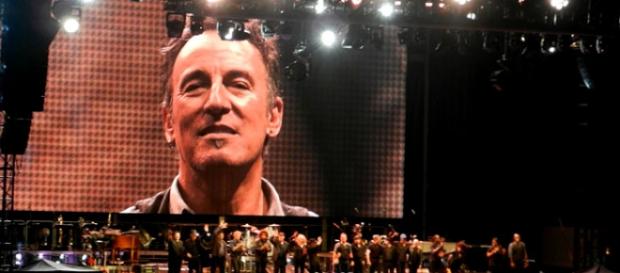 Bruce Springsteen is on his continuing The River Tour and recently played a few shows in Brooklyn, New York. One of the first moving moments of the Brooklyn leg of his tour was when The Boss played a heartfelt tribute to the late Prince, playing "Purple Rain" on two consecutive nights over the weekend.
Springsteen has since made the song available for free download from his official website and has uploaded a pro-shot version of that performance to YouTube.
On Monday, hearts were moved when New Jersey Governor Chris Christie was seen in the audience, lost in ecstasy, swaying to the music and playing air guitar and air drums, as can be seen in the tweet included below:
Thank you sweet little baby Jesus for Chris Christie's Springsteen trance... #photoshopplease pic.twitter.com/MNeF8nE0ln

— Evan Serpick (@Serps) April 26, 2016
10-year-old girl is "Blinded by the Light"
Now, on the last night in the Barclays Center arena, Springsteen tugged the audience's heartstrings yet again, by inviting a 10-year-old girl up on stage for a cute duet of his hit song, "Blinded by the Light."
According to Entertainment Weekly, it all began after the singer had played a couple of requests for the appreciative audience, as he then spotted the 10-year-old girl down in the audience, holding up a bright pink sign which read, "I've been Blinded by the Light! (I'm 10 years old and I know all the words.
Try me!)."
Telling her "This is a big test!" The Boss then invited the girl up on stage and someone, possibly a family member, assisted her up to join Springsteen and the band. She then launched into the song, "Blinded by the Light" with Springsteen strumming away on his guitar as an accompaniment. The audience joined in, cheering and applauding and singing the chorus as the two sang their duet.
After the song was over, The Boss then gave her a heartfelt hug and a kiss and signed her poster – something the young girl will probably treasure forever.
Record night for Barclays Center venue
Reportedly it was a busy night, as the Barclays Center Twitter account announced there were more than 18,000 Springsteen fans in the arena that night, all enjoying the moving interaction between The Boss and the young singer.
This was reportedly a new attendance record for the New York venue.
It's official: tonight's Bruce @Springsteen concert has set our highest attendance record ever with 18K + in the house!

— Barclays Center (@barclayscenter) April 26, 2016
You can enjoy the interaction in the video included below:
Click to read more
and watch the video
or