'Bering Sea Gold' season 6 episode 3 recap: 'Pressure'
The Christine Rose, Reaper, Eroica, Havilah, and High Noon search for gold.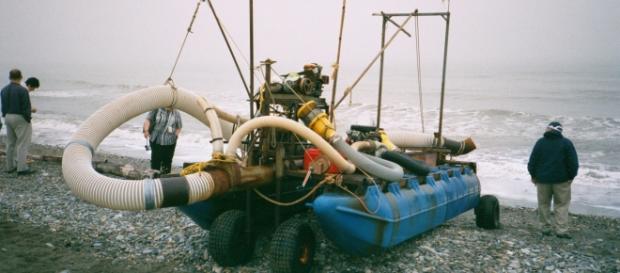 A brand new "Bering Sea Gold" aired last week and season 6 continued with an episode titled, "Pressure." Dredging is about adapting, which is something every dredge captain must do this season with easy gold becoming more difficult to locate in the Bering Sea. While there are many established dredges on the show, this episode brings us a new captain and new boat that hopes to revolutionize the process and command their own fair share of the gold this season. We also see that old habits are hard to break, and the failures of the past come back to haunt captains that should, by now, know better.
Christine Rose and captain Shawn Pomrenke
When Mr. Gold, also known as Shawn Pomrenke, lets his step brother Brent Wacker work the excavator on the Christine Rose, he jams it too hard into the Bering Sea and breaks a critical pin holding the arm together.
With no other option, they limp back to land and do the needed repairs so they can get back onto the gold and turn a profit. Shawn finds his dad, Steve Pomrenke, drinking instead of working. Steve has been spending all the money the Christine Rose makes on the inland mining operation. Shawn gets the pin they need and gets their dredge back up and running. The family business is all on Shawn's shoulders right now, and the gold he gets with the Christine Rose supports his entire family and crew. At the end of the episode the Christine Rose has a season total of 77.15 ounces of gold, worth about $92,580.
The Reaper and captain Brad Kelly
Brad Kelly and his sons Kris and Andy Kelly keep following their dreams. With a top speed of 2 knots, the Kelly crew slowly make their way on the Reaper to what they think is their new claim, 4 miles from their launch site.
They get to an area that has sand, but no cobble, and they prospect hoping for the best, but find nothing and keep searching. It ends up they were prospecting on the wrong claim, which is a little embarrassing for them. They found no gold, but the silver lining is that their claim may contain gold, if they can find it. The Kelly crew waste a day and are yet to get even an ounce of gold this season so far.
The Eroica and captain Emily Riedel
Still on claim 14 off the coast of Nome, Daryl Galipeau is disappointed in Emily Riedel again when the sluice box drops gold back into the Bering Sea after working ounce an hour ground for six hours straight. Once again, Emily takes her boat back to shore for repairs and loses out on precious time that could have been spent making a profit on the Bering Sea. Her first cleanup is done at an old Hospital she is renting out as a home base. The total is 10.76 ounces, worth $12,912, and Emily confesses she probably lost some gold when the sluice box fell into the sea and knows that Daryl may leave if she doesn't get her act in gear.
The Havilah and captain Zeke Tenhoff
Jesse Solomon, a diver on the Havilah, gets into some hard packed material right away after almost breaking his wrist with the suction nozzle. He allows a massive rock to get sucked up and jam up the hose, which costs the crew a half hour of dredging, and Zeke says sometimes it happens, there's nothing you can do, and corporate doesn't need to know about it. When it happens again, Zeke says only unskilled divers get a lot of rock jams. With the pressure on to make it pay, and spending $500-$600 a day on fuel, it's time for the captain to employ some new strategies to make his operation profitable. The Havilah total this season stands at 8.64 ounces worth $10,368.
The High Noon and captain Derek McLarty
Derek McLarty, looking for a new adventure and following his dreams, has a new twelve-inch dredge boat called High Noon, a $450,000 investment that tapped his bank account dry, worth the same as a Lamborghini. They get the boat floating and launched, which is a make or break moment. Derek says it could solve all of his money problems if it all works and captures the gold and says that the twelve-inch dredge is the natural progression of things.
Click to read more
and watch the video
or