Release Date: 2016
Genre: Comedy
Rating: PG-13 (sexual material and language)
IMHO: I give this film a thumbs up
Consider this: Barbershop (2002), Barbershop 2: Back in Business (2004), Beauty Shop (2005), this Barbershop: The Next Cut is the fourth. This movie was directed by Spike Lee's cousin, Malcolm D. Lee (The Best Man Wedding, The Best Man Holiday, Scary Movie 5, and many more) and features Ice Cube (Calvin Palmer), Regina Hall (Angie), Cedric the Entertainer (Eddie), Sean Patrick Thomas (Jimmy), Eve (Terri), Anthony Anderson (J.D.), Nicki Minaj (Draya), Common (Rashad), and many more.
What is the story?
The recession has had an impact and the Barbershop has gone co-ed. Calvin has entered into a partnership with Angie, proprietor of the Beauty Shop, and the guys now share the space with the ladies. There are some new tensions arising from this, yet it's still a welcoming place where people talk about anything, from sex to races, African American struggles, economy, politics, racial stereotyping, even Obama.
But the Chicago's South Side neighborhood is becoming more violent.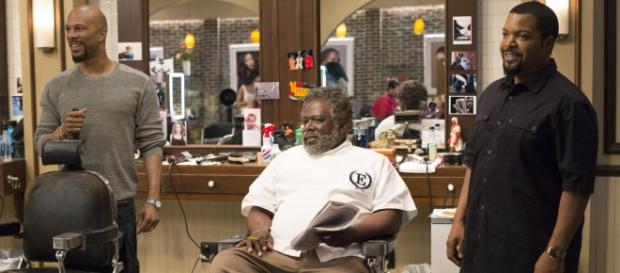 At risk are not just kids, but everyone including mothers, fathers, the elderly; no one is safe. Calvin has said nothing but secretly plans his exit and move to the safer North Side. Meanwhile, the shop organizes a weekend of free haircuts to promote a truce on gang violence which becomes a trending topic on Twitter.
Calvin is married and has a 14-year old teenage son, Jalen, who is close to joining a gang. His friend is there too, but has the smarts to go home instead, and tells him that he should too, that he is lucky to have the love of a mom and dad, that he has it made. In the end, he does not join either, Calvin arrives just as he's decided, and he is proud of his son.
Bottom Line
The acting is marvelous. The movie is very optimistic and presents a positive message. Famous line: "There's never been a better time in this country to be a black man than now." The characters don't pretend to solve the problems but they do open up our minds and engage in the discussion.
The movie reminds one of Spike Lee's Shi-Raq movie, but it remains a comedy. Race divides us, but laughing together is therapeutic. Although the mayor is mentioned, neither he nor the police or held responsible for the inner-city violence, for which the gangs are the ultimate focus in the movie. And marital fidelity!
See these other showbiz articles:
The Movie: Mei ren yu (The Mermaid)
Don't Miss Deadpool, The Movie
Do you Enjoy Ghost Stories? The Revenant Will Haunt You!
Hail, Caesar! The Movie Review
The Divergent Series: Allegiant is the Third of Four
You and Your Children Will Love Zootopia, the Movie
Make Love Not War! Shi-Raq Movie Review
Movie Review: "The Way" Is Sensational & Inspirational
He Did Come Back! Terminator Genisys Review
A Hologram for the King: Movie Review
Click to read more
and watch the video