Barbara Bain finally gets star on Hollywood Boulevard
There is a new star on the Hollywood Walk of Fame as day is proclaimed Barbara Bain Day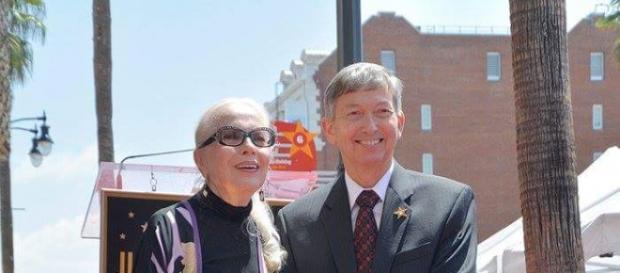 Actress Barbara Bain was honored with her long overdue Hollywood Walk of Fame star as the City of Los Angeles proclaimed April 28, 2016 will now be known as Barbara Bain Day. Devoted fans flew in from all over the United States and the UK to share in the celebration. While the 'Mission Impossible' theme music played in the background. Barbara was full of wit, charm, and just beamed with happiness and gratitude.
Ed Asner and Dick Van Dyke share stories.
Long time actors and friends, Ed Asner and Dick Van Dyke spoke at Bain's ceremony sharing memories and compliments galore.
"You're a great woman," Ed Asner told her. After sharing great stories about her guest spot on The Dick Van Dyke Show, Van Dyke told her "You're still gorgeous; and you're still tall!" Hollywood Chamber of Commerce President/CEO Leron Gubler started his speech with sharing that "Barbara Bain embodies everything one can want in a true artist."
Loved by fans around the world
The three time Emmy-winning actress was born in Chicago, enjoyed a successful modeling career, then found her way to Hollywood.
Bain skyrocketed to household name status with her role as the glamorous and intelligent secret agent Cinnamon Carter in the iconic TV series Mission Impossible. Yet it was her role as Doctor Helena Russell in the sci-fi series Space: 1999 where she is beloved by fans around the world.
Bain thanked fans in her speech
"My life has been bigger than all my childhood dreams. I came here with a Broadway play, and the theater is gone, and I'm still here." She went on to sincerely thank her huge community of worldwide fans, and mentioned how they all came together to make this Walk of Fame honor a reality. They meet each other; they support each other during good and difficult times. "Every single person here has been part of the mosaic of my life. Old friends, new friends. I thank you for it." Bain's star is located at 6767 Hollywood Boulevard in front of The Stella Adler Theatre where Bain studied acting.
Her filmography rolls off the page with guest roles on TV series after series including Moonlighting, Scarecrow and Mrs. King, Murder, She Wrote, My So-Called Life, Walker, Texas Ranger, CSI: Crime Scene Investigation, and so many more.
This actress never quits
Barbara Bain never slows down. At 84 years young, she has founded the SAG Foundation's BookPALS which is a Performing Artists for Literacy in Schools program. For 15 years she traveled every week to Grape Street Elementary School in Watts to read to kindergartners and first graders. A member of the Actors Studio, she continues to direct, teach, and mentor young writers, directors, and actors.
Click to read more
and watch the video
or