You may vomit on the 'Harry Potter' ride at Wizarding World Universal Studios Hollywood
The California theme park ride based on the 'Harry Potter' movies opens soon.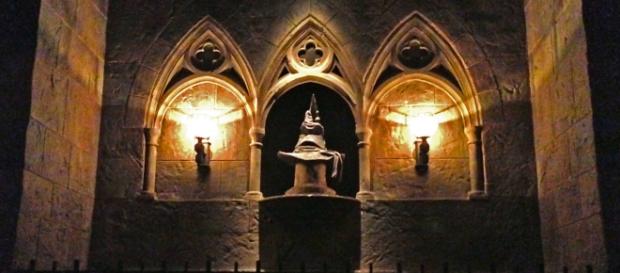 Major News organizations such as Fox and TMZ have been reporting over the last few days that the Harry Potter and the Forbidden Journey ride located at the Hollywood location of the Wizarding World inside Universal Studios, California is inexplicably making people sick on the test rides. The motion sickness prone ride is very similar to the attraction found in Orlando, Florida, but the California version is 3D.
Opening day looms for the Hollywood theme park
With only a month until the park is slated to open on April 7, the rides are being tested and final adjustments to the park are furiously underway before the general public arrives in droves.
TMZ is reporting that park employees have been testing the broom ride which takes guests through various locations including Hogwarts Castle, but many have experienced vomiting, potentially from motion sickness, a condition which doesn't occur with the vast majority of guests at the Orlando, Florida location of the same ride.
While the Hollywood version is 3D, it's being reported that isn't the cause of the issue.
Tens of millions of people expected
Fox news is reporting that the ride vehicles are basically benches that guests can imagine are enchanted, and a projection in front of the guests, along with movements up and down, back and forth and from one side to the other, give the illusion of flying on a broom. Fox news spoke with Tom Schroder, a spokesman for the Universal theme park, and were told that tens of millions of people had experienced Harry Potter and the Forbidden Journey at Orlando and Japan without issues. Time will tell if Hollywood can work out whatever issues are making people sick on their version of the ride before millions of paying visitors arrive to experience some of the "Harry Potter" magic of their own.
Park is similar to ones in Orlando and Japan
The new theme park is said to be a close experience to the locations that already exist in Japan and Orlando, offering customers in California a similar adventure. In addition to the Forbidden Journey ride, the park will include Olivander's Wand Shop Show, the Triwizard Spirit Rally, the Frog Choir and the Flight of The Hippogriff roller coaster ride. The Hollywood park reportedly will not have their version of Dragon Challenge, considered by many as an extreme ride. The "Harry Potter" movies starred Daniel Radcliffe as Harry Potter, Emma Watson as Hermione Granger and Rupert Grint as Ronald Weasley. The "Harry Potter" franchise is the creative masterpiece by author J.K. Rowling and spawned 8 blockbuster movies based on 7 novels revolving around the adventures of the boy wizard.
Click to read more
and watch the video
or