WWE Triple H: 'WrestleMania' résumé and predictions for this year
What does Triple H's history at WWE's biggest event tell us about what will happen at 'WrestleMania 32'?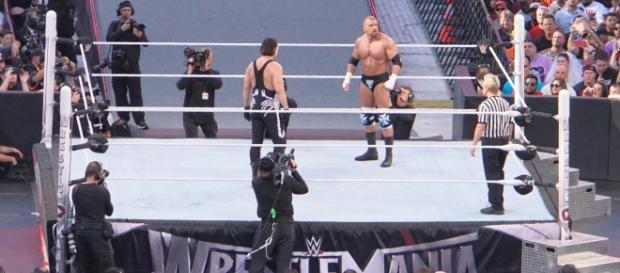 When Triple H defends the WWE World Heavyweight Championship against Roman Reigns at "WrestleMania 32" on April 3rd, it will be his twentieth time competing at the event. While he never had a streak like The Undertaker or a "Mr. WrestleMania" moniker like Shawn Michaels, The Game plays a huge role every year. He's had some of the greatest in-ring performances at WWE's answer to the SuperBowl and will likely be an important part of all things backstage well into the future.
Its been 7 years since Hunter Hearst Helmsley headlined "WrestleMania," and all indications point towards The Big Dog and The Cerebral Assassin closing out the event in Dallas.
With nearly two decades of experience, what can Triple H's "WrestleMania" history tell us about what we can expect to see at this year's offering?
What follows is one part of a series of "WrestleMania Résumé" articles in which we take a look at a current or former WWE Superstar's history at "WrestleMania" (such as The Undertaker, Shane McMahon, The Rock, Daniel Bryan, Seth Rollins and the WWE Divas Champion), and what it might tell us about that (or a similar) competitor at "WrestleMania 32" in Dallas.
I really hope Triple H wins at Mania #WWEFastLane #TripleH pic.twitter.com/UOnECY9yuU

— Sezza NXT/COD Fan (@dabombard) February 22, 2016
"WrestleMania" record
With an overall record of 9-10, Triple H will be fighting to bump his record up to even by defeating Reigns. Every match he's competed in has been a singles match of some kind (including a couple of Triple Threat Matches and a Four-Way Elimination Match), so he has no one to blame for any of his losses except himself. From 2004 to 2008, Triple H lost all four of his "Mania" appearances, and his overall winning percentage hasn't been able to correct itself since then. 
Title matches
When Hunter defends his title against Reigns at "WrestleMania 32" next month, it will be his 10th title match at Mania.
He competed for the WWF European Championship, WWF Championship, Undisputed WWF Championship, World Heavyweight Championship, and the WWE Championship. This will be the first time he defends the relatively new WWE World Heavyweight Championship at "WrestleMania." Of his 9 title bouts, he's left the show with gold 5 times. He defeated Owen Hart for the Euro strap at "WrestleMania 14," Randy Orton for the WWE Championship at "WrestleMania 25" and Big Show, The Rock and Mick Foley at "WrestleMania 2000."
Main event matches
Even if the match doesn't go on last, Triple H vs. Roman will be billed as part of this year's triple main event. But even if WWE tries to do it again this year, the true honor goes to the match that happens last. Triple H has closed "WrestleMania" a total of six times, winning half of the time. The 3 guys that beat him at the end include Chris Benoit, Batista, and John Cena.
Worthy competition
Triple H has pinned some of the industry's biggest names at "Mania," including The Rock, Brock Lesnar, Sting, Mick Foley, Owen Hart, Chris Jericho, Randy Orton, Booker T, Sheamus, and Goldust.
The Review Stands Alone: Undertaker vs. Triple H (WrestleMania 17) (by @amcmahon_www) https://t.co/H5vErlAaIO pic.twitter.com/8eQmQ6HSAY

— Wrestling With Words (@wrstlingwrds) March 14, 2016
Those who have defeated Triple H at "WrestleMania" are almost as impressive: The Undertaker, John Cena, Daniel Bryan, Chris Benoit, Ultimate Warrior, and Kane. 
'WrestleMania' moment(s)
Despite his long history, there aren't a lot of "WrestleMania" moments that stand out in Triple H's experience. Despite leaving the event with a world title on several occasions, his matches against Taker at "WrestleMania 28" and "WrestleMania 29" will probably go down as his two best "WrestleMania" matches. 
Predictions for 'WrestleMania 32'
While WWE still has plenty of time to change the line-up for Dallas, it looks like Triple H will be defending the WWE World Heavyweight Championship against Roman Reigns in the main event. It seems highly unlikely that Helmsley will defeat Reigns, but HHH has been involved in a couple of surprise endings, including his win at "WrestleMania 2000" and his loss at "WrestleMania 24." Could Triple H walk into "WrestleMania 32" and leave with the gold? Only if WWE is intentionally going for the unexpected.
"WrestleMania 32" airs live on the WWE Network on April 3rd. 
Click to read more
and watch the video
or