These two news anchors just did the coolest on air tribute ever
Atlanta WSB-TV News Channel 2 anchors trade 'A Tribe Called Quest' lyrics in their broadcast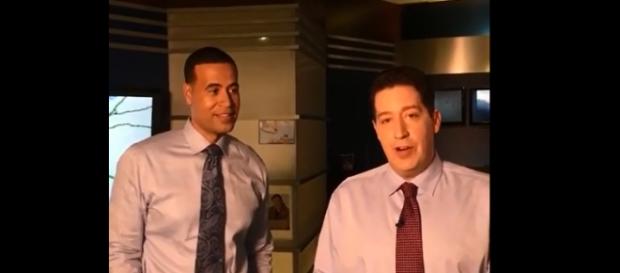 News is typically straight forward and professional, except when they do something cool and pay an unconventional tribute to a 90's rap group. WSB-TV Channel 2 Action News is the ABC Atlanta affiliate and on Thursday they included a tribute to Phife Dawg of A Tribe Called Quest (ATCQ) in their broadcast. Phife passed away on March 22 from complications from diabetes. 
A funky tribute
The broadcast began with Traffic anchor Mark Arum and news anchor Fred Blankenship trading rhymes back and forth from ATCQ's songs and integrating them so seemlessly into the broadcast that only true ATCQ fans would know the difference.
Arum included lines from ATCQ's hit Award Tour, slyly asking fellow Triple Team Traffic member Mark McKay, "Are things ludicrously speedy or infectious with the slow mo." He then followed up with, "Mark McKay's track record is longer than a DC-20 aircraft." In case viewers who were watching the morning broadcast thought they were imagining things, Arum solidified it by saying, "McKay, do dat do dat do do dat dat dat." At this point Blankenship got in on the game.
Blankenship tossed the broadcast over to Arum by asking, "You on point Mark?" To which Arum responded, "We're on point, Fred."
Viral phenom
Needless to say the video went viral, amassing over 200,000 hits in a day. Arum and Blankenship took to Facebook in a live feed to explain why they felt the need to pay tribute to Phife Dawg during their broadcast. "So we got in yesterday and we go on the air 4:30 in Atlanta and at 4:28, our director James Reid told us that he just saw on Facebook that Phife Dawg had passed and I was like a gut punch," said Arum. "And usually Fred and I will work in hip hop references – here and there – but I made the decision right then – well, you know what, let's pay tribute to Phife on the show today and go all out." 
Not a precedent, but always entertaining
Arum and Blankenship are certainly not the first newscasters to work in hip hop lyrics in their broadcast.
The late Stewart Scott of ESPN gained fame with constant references to rap songs and hip hop culture in his broadcasts. In one set, Scott even did a spoken word tribute to Steph Curry of the Golden State Warriors.
So, if anything, if this viral hit doesn't garner both Arum and Blankenship a promotion to the national spotlight, at least they'll always hold a place in the heart of ATCQ fans. 
Do or Die Bed Stuy??? https://t.co/wmvcPOTWDG

— Mark Arum (@MarkArum) March 24, 2016
Click to read more
and watch the video
or