"Of King and Prophets" debuts on ABC tonight
A look at ABC's biblical retelling of the story of David and Saul and how it compares of other Biblical dramas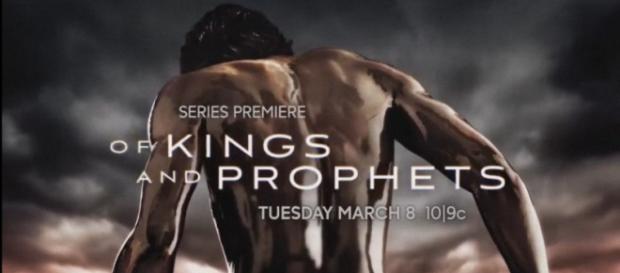 ABC is tackling a monumental task with its latest mid-season replacement show, "Of Kings and Prophets". It's the epic biblical retelling of David and Saul. The concept is not new as NBC tried to tell the story of David and Saul with its drama, "Kings" in 2009. While critically acclaimed, excellently acted and complete with an excellent storyline, "Kings" was cancelled after one season.
ABC hopes to avoid this jinx with their pilot. "Kings" was set in a present day while "Of Kings and Prophets" stays true to the original story and takes place in biblical times.
The cast is led by Olly Rix ("The Musketeers") as David, the shepherd boy who would be king. The British theater actor is a virtual newcomer to American audiences but he gives David a regal interpretation despite his intial lowly status in the kingdom.
Unlike the Bible, Rix is not ruddy like the actual King David, rather he is dark haired and tan with a serious demeanor.
Multicultural Cast
The cast is rounded out by Saul (Ray Winstone, "The Departed") and his multicultural family. Ahinoam is Saul's wife played by New Zealand actress Simone Kessel ("San Andreas"), David's best friend and Saul's son Jonathan is played by Lebanese actor Haaz Sleiman ("The Visitor") and Saul's daughter Michal is played by Maise Richardson-Sellers ("Star Wars: The Force Awakens", "The Originals") who is British and Black. Other roles of note are Jeanine Mason ("The Bling Ring") who plays Saul's other daughter Merav and is of Cuban descent and Mohammad Bakri ("Private") who is Palestinian and plays the prophet Samuel.
The move is interesting because while "Kings" featured a predominantly Caucasian cast, they brought in diversity by making the character Jonathan gay.
This obviously detracted from the Bible's interpretation of the character and ruffled a few feathers in the Christian community.
The Storyline
Anyone who has studied the story of David and Saul knows that Saul was King of Israel and was rejected by God and replaced by David. The storyline of "Of Kings and Prophets" begins with David's killing of lion with a slingshot and entering into Saul's world, where he would eventually claim all that belonged to Saul including his throne, his daughter and the friendship of his son. However, in this retelling David also claims Saul's wife. Purists to the Bible might have a problem with this change but most likely they will still tune in to see if this new retelling of the Bible will fly.
History of Biblical Drama
Epic biblical dramas tend to do well in theaters. Most recently, "Noah" and "Exodus: Gods and Kings" did moderately well in the theaters. The main issues that fans had with these films were deviations from the biblical storyline and in "Exodus: Gods and Kings," the lack of diversity.
ABC obviously took note of all the errors of the previously mentioned shows and films and created a version that it hopes will connect with audiences. After all, if "Of Kings and Prophets" experiences anything near the success of The History Channel's miniseries "The Bible," which pulled in 11.7 million viewers and eventually lead to NBC picking up "AD: The Bible Continues" and the release of the film "Son of God," it stands to capitalize on a show not just during Easter weekend, but all season long. That could translate into big bucks and target an underserved market in the Christian community that has proven that it will spend time and money on a product such as this.
"Of Kings and Prophets" airs tonight on ABC at 10 p.m.
Click to read more
and watch the video
or