'Bering Sea Gold' season 6 premiere episode 1 recap: 'The Gamble'
Shawn and Steve Pomrenke, Emily Riedel, Zeke Tenhoff and Vernon Adkison search for gold.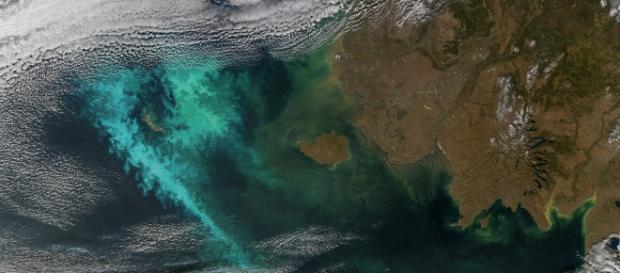 This week, on The Discovery Channel, "Bering Sea Gold" returns for an epic season 6 premiere with, "The Gamble," and we continue the Mike Rowe narrated adventures of gold dredge operators in Nome, Alaska. Back at it again this season is father and son team Shawn "Mr. Gold" Pomrenke and Steve Pomrenke, co-owners of the Christine Rose. Mike Rowe comments that there's a 117 year history of mining gold in Nome which started on creeks and bridges and eventually went into The Bering Sea.
The amount of available offshore gold is becoming scarce, according to Rowe.
The Pomrenke Crew of Christine Rose
Shawn and Steve Pomrenke of the Christine Rose have been wildly successful, but Shawn states that you need to take risks to be a gold miner.
That being said, he starts off mining this year where they left off last year, and is first to the grounds. Last year the Pomrenke crew hauled in 1000 ounces of gold but this year Shawn wants to do better. Steve Pomrenke wants to start inland mining, which is expensive, and he's spent everything they've earned on equipment hoping to have a 25 year operation set up for his family. The Christine Rose works near the beach for most of this episode, which is dangerous. The risk is worth it, there's gold in the sluice with some nice chunks and nuggets. Shawn does a cleanup back at the shack and his dad asks for $52,000 in gold for a new engine. They end up with 77 ounces for their work this week and at the end of the show they break ground on the inland mining endeavor having invested $600,000 into the operation.
However their first hole, literally in their back yard, has no gold to be found.
Emily Riedel and The Erocia
Emily Riedel goes back to where she left off last year and gets on the gold right away. Her com system is broken, which is dangerous, but Emily and diver Daryl roll the dice. Emily says the men don't take her seriously and she doesn't want special treatment, she wants to be treated as an equal in the gold mining industry. Soon after the dive starts her rear pontoon is flooded and the boat is sinking, but since the com isn't working she can't easily contact her diver about the emergency. Daryl is disappointed that Emily wasn't prepared and Emily knows he is an in-demand diver and she could lose him. Emily has no choice so she plugs her pontoon, gets a new com box, new mask and it hits her bank account hard to the tune of $2000, which she should be able to recover with a good day of gold dredging.
Zeke Tenoff and Havilah
Zeke Tenhoff, not wanting to work with Emily, is taking charge of a corporate owned million dollar suction dredge called "Havilah" this year and he hopes for a 500 ounce season.
Zeke predicts he needs 1,000 hours of dive time to make this goal a reality. With his rivalry with Emily alive and kicking, the pressure is on for Zeke to get on the gold and produce. Zeke dives first at 26.5 feet and heads for a rock wall where he finds course chunky gold which will hopefully satisfy the corporate owners of the boat. Zeke's first cleanup is from 9 hours of diving and dredging and he hopes for 6-7 ounces. The final total weighs out at 8.6 ounces, worth about $10,000, but despite the success corporate bosses breath down his neck about what he can do to increase the amount of ounces per hour.
Vernon Adkison and Brad Kelly
Vernon Adkison leased a sub dredge last winter, and was the most successful ice dredging operation, and hopes to use it during the summer as well. He says it will be a game changer if he can get it in the water, but he just needs a boat that can handle the bulky machine. Meanwhile, Reaper owner Brad Kelly is trying to win back his eldest son Kris Kelly after some bad blood the last few years. Brad has a claim for 120 acres he purchased for $10,000 which contains piles of gold, he claims. After convincing his sons to come back to work with him, after cheating them out of thousands of dollars of gold over the years, they borrow a trailer and load up their boat to go dredging.
Click to read more
and watch the video
or