Z Nation: all the details of season two
Z Nation is almost renewing its contract with SyFy for season three, but until then, season two continues to roll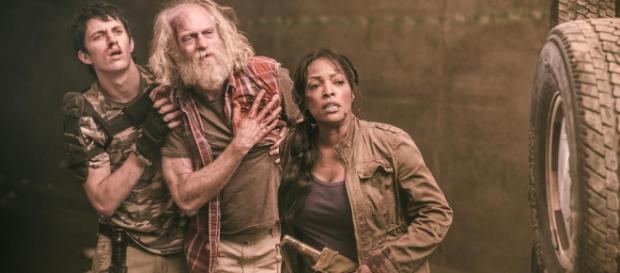 Plot and premise
The plot revolves around a group of survivors three years after a zombie infestation that overtook the US. Together, a team must take the only survivor of the plague to the other side of the country, but the man hides some secrets that may put the whole group in danger. The goal of the team is to reach the only functional laboratory and make a cure.
George R.R. Martin, the acclaimed writer of "A Song of Ice and Fire" made a special guest appearance in season two as a zombie who was signing books, stuck with two other zombies in a room.
Z nation stars Harold Perrineau Jr as Mark Hammond, the last survivor of the Delta Force, the character only shows up in the first episode, but Perrineau is credited as a main character; Michael Welch as Mack Thompson, a former hockey player who joins the group with his girlfriend Addy; Russel Hodgkinson as Doc, a drug addicted psychiatrist in recovery who often uses his drugs in creative ways to help people; Nat Zang as 10K, the youngest member of the group and an excellent sniper; Tom Everett Scott as Charles Garnett, who was a member of Blue Sky who turned into a zombie and was then killed by one of his officers as a mercy killing; DJ Quals as Citizen Z, a hacker localized at the Arctic, the character was all by himself in a place, and had a radio show for the survivors where he could talk about zombie hordes and natural disasters, among others.
Karl Schaeffer is the creator of the show. David Michael Latt, David Rimawi and Paul Bales are the executive-producers of Z Nation. David M. Latt is also one of the founders of The Asylum, the company responsabile for the show.
With the growing popularity of dystopian, end-of-the-world, and zombie narratives like "The Walking Dead," films like "The Road," and others, "Z Nation" fits perfectly into that niche. For all those wanting to get another dose of this style of content, it's an excellent watch that offers a slightly different perspective from what one might normally expect.
Click to read more
and watch the video
or