Tyra Banks posts pictures of baby boy on Valentines Day
The model posts first pictures of herself with new bundle York on Instagram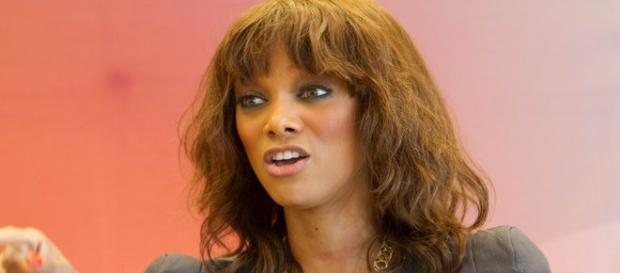 The America's Next Top Model host and top fashion model Tyra Banks has for the first time shared an adorable photograph of her newborn baby boy York Banks Asla via her Instagram account. The proud mom is seen cradling her bundle of joy in the picture. The picture was uploaded on Instagram on Sunday, February 14, 2016. It was an ideal Valentine's Day gift to all her fans. Her fans were eagerly waiting for this moment right from the time the news of the birth of her baby boy spread.
Happiest Valentine's Day gift ever says Tyra Banks
In the photograph, Tyra seems to be happy and contended. The adorable and cute baby was cuddled up in his mother's arms.
Tyra seemed to be enjoying the best moments of her life by enjoying the small but memorable moments that being a mother offers. Probably that is what she meant when she said that this was the happiest Valentine's Day of her life. She also said that York was the best present she had ever received and that she and her boyfriend had worked and prayed hard for their baby to be born. She also wrote that York had her fingers and big eyes and daddy Erik's mouth and chin.
Long Wait but Happy Ending
Tyra Banks had announced last month via Instagram that she and boyfriend Erik Asla, a Norwegian photographer, had welcomed baby York to the world on January 27, 2016. Her fans were taken by surprise as the surrogacy was a well guarded secret. She and Erik started dating about 2 years back. When she turned forty, she felt that she wasn't happy without a baby.
That's when she decided to have a kid, but it was not easy for her. The 42-year old Tyra Banks was desperately trying to have a baby and had been struggling with fertility issues, unsuccessful IVF attempts and finally decided to take the help of a surrogate .The baby was born via a surrogate mother.
Tyra Thanks the Surrogate
She was so happy that her prayer had been answered and she was extremely grateful to the woman who carried her baby. She referred to her as an angel surrogate mother. She stated that she would pray for every couple who are struggling to have babies.
We wish Tyra Banks, Erik Asla and baby boy York Banks Asla an exciting future filled with loads of love, joy and happiness throughout life.
free to use, share or modify even commercially, Flickr https://www.flickr.com/photos/fortunelivemedia/6210136852/in/photostream/
free to use, share or modify even commercially, Flickr https://www.flickr.com/photos/fortunelivemedia/6210137216/in/photostream/
Click to read more
and watch the video
or