The shootings of the Baywatch movie have begun
Dwayne Johnson, the producer and one of the protagonists of the movie has put on his swimming shorts.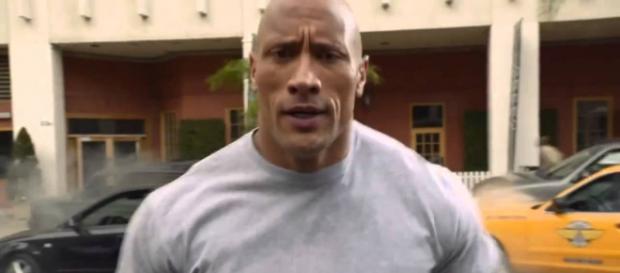 The shootings of the Baywatch movie which is to be released in 2017 have been started. In the cast one can see Leonardo DiCaprio's ex-girlfriend smiling, who will be running on the shore instead of Pamela Anderson.
Dwayne Johnson is also very busy, besides his acting and production works he has time to continuously update the information about the shooting of the movie on his Instagram.
First the star of Fast & Furious movies shared a photo of a cheerful reading rehearsal in which he proudly introduces the cast of the film.
The actor-producer calling himself a "proud silverback gorilla" is laughing at the screenplay in the picture with Alexandra Daddario, Zac Efron, Priyanka Chopra and Kelly Rohrbach.
In the movie the beautiful blond actress impersonates the most popular character of the TV-series, C.J. Parker, who was played by Pamela Anderson for five seasons.
Kelly Rohrbach has mostly been famous for being Leonardo DiCaprio's girlfriend last year. The relationship is over, so the 25-year-old former model now actress girl's career has started. She will appear in Woody Allen's movie that hasn't got a title yet, and soon she'll put on the red swimsuit as well. In a funny video we can see her and Johnson practising running in the sand.
Speaking of swimsuits, Dwayne Johnson has already shown the new uniforms in two beach photos. In one of them, Zac Efron impersonating Matt Brody poses with the new Mitch Buchannon (Johnson), and shows his muscles in a tight shirt. According to the pictures, the swimming shorts will be red and blue with a lot of zippers, and to be clear the "Lifesaver" label is also on it.
Probably everyone is more interested in the legendary red swimming suit than in men shorts. We could also see that, a long-sleeved swimming suit that can be zipped until the navel was shown by Ilfenesh Hadera (actress of the movie Oldboy and the series Billions) who was posing with Johnson on a lifesaver tower. Hadera will impersonate the short-haired woman of the series, Stephenie Holden. The movie will be released in May 2017.
Click to read more
and watch the video
or