Taylor Swift opens up 58th Grammy Awards in style with musical performance
Swift was the victim of a Kanye West misogynist diss track released last week.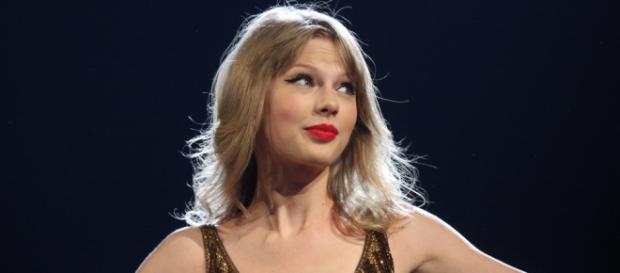 Taylor Swift opened up the 58th annual Grammy Awards in style tonight with a musical performance of her hit, "Out Of The Woods." Speculation abounded with wonder as fans pondered which song from "1989" would be performed by Swift, and the former country music turned pop music superstar went with her most recent single. "Out Of The Woods" was officially released earlier in the month on Feb. 5 and was accompanied by a video that so far has 55,932,613 views on YouTube.
Rhinestones, confetti and bright lights
Taylor's performance echoed her classic concert moments from the past and featured the singer with signature red lips while wearing a tight black dress adorned with sparkly rhinestones as bright lights and confetti rained down upon her and the audience.
Smoke floated near the floor as prop trees adorned the sides and back of the stage. Swift performed with a full backing band and interacted with her fellow musicians who all appeared to be in fine form.
Swift took a moment near the end of the song to address the crowd by saying, "Hello and welcome to the 2016 Grammy Awards, but right now it's 1989, put your hands up."
Swift had an incredible 2015
Taylor Swift has dominated the airwaves over the last couple of years with "1989," the best selling album of 2014. Her success continued into 2015 and her videos have received massive views on YouTube. Her song "Style" currently has 382,284,198 views but her smash-hit "Blank Space" currently stands at an astonishing 1,474,617,589 views. That's quite an accomplishment for Swift's first attempt at a purely pop album, a strong departure from the country genre that brought her initial fame and success in the music industry.
Kanye West's misogynist diss track against Swift
Being such an icon in the music industry, Swift is often a target and magnet of those who wish to catch a bit of fame and media exposure of their own at her expense.
Just last week Swift was the unfortunate victim of a hateful and misogynist diss track from none other than Kanye West in his new song "Famous." In the track West declares, "I feel like me and Taylor might still have sex / Why? I made that bitch famous." West actually thought Swift would release the song on her Twitter account, but Swift reportedly said no and warned West about the misogynist tone of the track. According to eonline, who spoke to a representative for Swift, the singer wasn't made aware of lyrics where West calls her a "Bitch." However this feud turns out in the long run its clear that West has a lot of growing up to do and his behavior in this situation is simply childish. Swift took the higher ground and made no mention of the diss track in her opening number. Her success is the best reply in this case and obviously West is struggling financially as he has just announced on Twitter that he is 53 million dollars in debt.
I write this to you my brothers while still 53 million dollars in personal debt... Please pray we overcome... This is my true heart...

— KANYE WEST (@kanyewest) February 14, 2016
Click to read more
and watch the video
or