Taylor Swift is the star at the Grammys
Taylor Swift's "1989" won album of the year at the Grammy at Los Angeles on Monday night.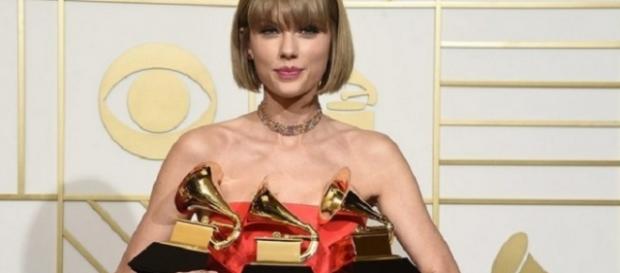 The three-and-a-half hour show of the prestigious Grammys a while ago saw a long line of Anglo, African American, Latino, Asian, straight, gay, young and veteran performers take centre stage.
And, among them, country-turned-pop superstar Taylor Swift was fortunate enough to take home three more Grammys, including album of the year for her blockbuster "1989" album.
The 58th Grammy ceremony held on February 15, 2016, at the Staples Center in Los Angeles was a star-studded affair.
In the run up to the top album honors, Swift and Compton rapper Kendrick Lamar had been vying with each other.
And when the moment arrived, it was Taylor Swift, who walked up on stage after presenting Lamar with a hug.
Swift had seven nominations, and ended up collecting the music video Grammy for "Bad Blood," and also the pop album award for "1989." The top album prize was an addition.
That's a wrap on the 58th #GRAMMYs! Thank you for tuning in! See the full list of winners: https://t.co/aUSkhSaxtX pic.twitter.com/6jgyUiAq6N

— The GRAMMYs (@TheGRAMMYs) February 16, 2016
In an awards ceremony that saw Taylor Swift as the star, it was "Uptown Funk", by Mark Ronson and singer Bruno Mars, that bagged the record of the year laurel.
The Grammy for the Song of the Year was given to British singer-songwriter Ed Sheeran's "Thinking Out Loud."
Meanwhile, Lamar was bestowed with the Grammy for the rap album. The audience rose to their feet to give a standing ovation.
This was one of only eight awards handed out on camera, among 83 total categories this year.
Lamar also put up an astounding performance on the Grammy stage with two songs from the album: "The Blacker the Berry" and "Alright", and more.
The occasion also saw a tribute to R&B-pop singer-songwriter, Lionel Richie.
The Song of the year award was given for 'Thinking Out Loud' to Ed Sheeran
The Best new artist is Meghan Trainor.
The Grammy awards are presented by the National Academy of Recording Arts and Sciences of the U.S. to honor outstanding achievement in the U.S music industry.
Sir Georg Solti has won 31 awards and is the artist with the maximum Grammy wins.
With 27 awards, Alison Krauss is the female artist with most wins.
Congratulations to all the winners!
Click to read more
and watch the video
or