'Neerja' Movie Review and Box-Office Collection Prediction
Sonam Kapoor's 'Neerja' is the story of a failed Pan Am Flight 73 hijacking in which 20 people lost their lives.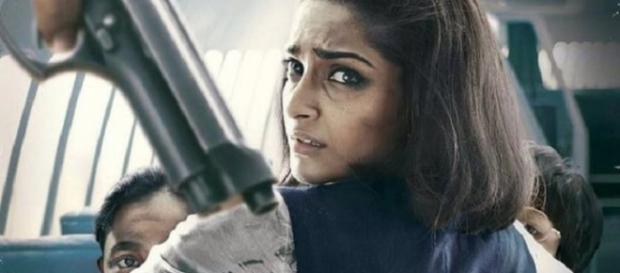 The Hindi movie "Neerja" starring Sonam Kapoor and Shabana Ajmi was released in India and across the world on Friday, February 19, 2016.
The movie is directed by Ram Madhvani.
Ram Madhvani's "Neerja" has opened to packed houses in various parts of India, and the in-flight thriller seems to be running away with all the accolades this season.
Narrating the tale of the hijacking of Pan Am Flight 73 in Karachi, Pakistan on 5 September 1986, the film rewinds to those days when the world was on its feet.
At the centre of it all is the flight attendant Neerja Bhanot whose efforts save the lives of the lives of the passengers on the flight. The real life story retold on the big screen was bound to be looked forward to, and the crowds justify the emotions packed in the drama.
Watch "Neerja" trailer video.
Talk is already on Sonam Kapoor, who plays Neerja Bhanot. The performance is nothing short of awesome, and the role is sure to do for her what "Kahani" did for Vidya Balan a few years ago.
Tweets praising Sonam's performance are filling the microblogging platform, and the ones that are applauding Sonam include Celebrities from Hrithik Roshan to the ordinary man on the street.
Shabana Azmi and Shekhar Ravjiani, who play supporting roles to Sonam, have also been raking in applause ever since the first show got over.
#Neerja movie will definitely cross 200 crore box office collections in india. With this movie Sonam Kapoor is Superstar. Wow @sonamakapoor

— KaamaaI Khan (@kaamaalrkhanKRK) February 18, 2016
Produced by Atul Kasbekar for Fox Star Studios, "Neerja" is emotions well displayed on the full screen.
Ram Madhvani has succeeded in retelling the much discussed and written about hijack drama and the fighting spirit the flight attendant showed in troubled times. The narration is smooth flowing, with the emotions packed in well.
The movie is expected to rake in, at least, Rs 10-12 crores ($1.76miliion) in the first day at the box-office. The word of mouth is good after the packed houses in multiplexes, and the collections are expected to increase over the weekend.
In her role, Sonam has, at a time when she was about to be fading away from good performing roles, come up with a surprising portrayal of the real life braveheart.
She deserves kudos for this. One only wishes that Sonam Kapoor would at least from now on carefully choose her roles and do them with conviction. Neerja has proved she can do it.
Read about "The Witch" movie review here.
Click to read more
and watch the video
or