Lady Gaga pays tribute to David Bowie
Lady Gaga dazzles her fans time and again walking the red carpet in David Bowie's signature style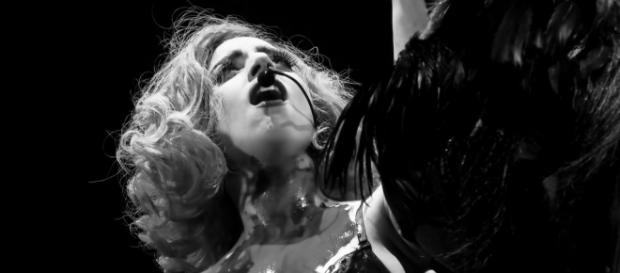 Gaga performs tribute to David Bowie
After proving herself at the Grammy Awards by singing David Bowie's songs, Lady Gaga's voice bedazzles her fans once more. Over the years Mother Monster's voice and artistical performance on stage have made the headlines, yet last night she shone like never before, amazing her fans with her vocal performance singing the hits "Space Oddity," "Ziggy Stardust," "Suffragette City," "Rebel Rebel," "Fashion," "Fame," and "Heroes" one after another while dancing on stage.
Gaga was honored to have sung those songs as she greatly respects Bowie (whom she's looked up to since she was eighteen). The artist also stated that if it hadn't been for Bowie, she wouldn't have had the strength to carry out her career as an artist, thus being extremely touched to have been granted the privilege of singing his songs.
Gaga also admitted to getting David Bowie's face tattooed on her left side last Saturday to prove her respect for him. Not many know about his eighteen-month battle with cancer as the artist spent his last days surrounded by his family. This was confirmed by his son, Duncan Jones.
Lady Gaga was among the many persons who suffered tremendously when David Bowie died, and maybe that's why Mother Monster seemed to stop at nothing in order to captivate the audience at the 58th Annual Grammy awards, bringing some of David's charm on stage. Her mesmerized fans also felt the tremor of the performance, their hearts recollecting the good old times when David Bowie was one of the most renowned artists. Ultimately, Bowie is a timeless icon, and, even in death, the world will continue to mourn the loss of such a wonderful, iconic, envelope-pushing, genre-defying artists.
It was only fitting, then, that one of his biggest fans (Gaga) should pay him tribute.
Lady Gaga made a grandiose red carpet entrance, dressed in many ways like the man himself might have. Either way, just as the world will forever remember David Bowie, Gaga's tribute to the "thin white duke" won't soon be forgotten.
Click to read more
and watch the video
or