Helen Mirren Will Call Out Drunks in Super Bowl 50 Commercial
Academy Award- winning British actress uses Budweiser ad to detail the stupidity of driving drunk.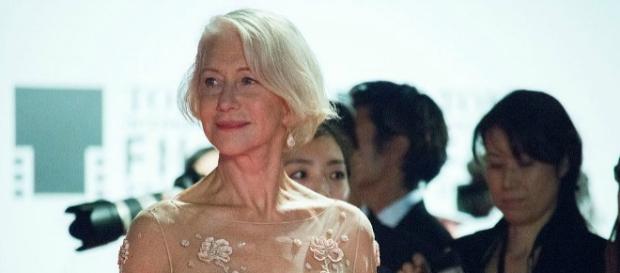 Helen Mirren, the 70-year-old Academy-Award winning actress, has joined the celebrity fraternity appearing in Super Bowl 50 commercials. She'll call out drunks in a commercial for Budweiser during the Feb. 7 game.
The commercial shows Mirren sitting in a booth alone in a bar. There's a cheeseburger and french fries on a plate in front of her . . . and a bottle of Budweiser.
The British actress then begins her rant about the dangers of drunk driving.
"Hello, I'm Helen Mirren, a notoriously frank and uncensored British lady," she begins."The collective, we are dumbfounded that people still drive drunk."
Mirren angry at drivers who drive drunk
"If you drive drunk, you, simply put, are a short-sighted, utterly useless, oxygen-wasting, human form of pollution."
"A Darwin-award deserving, selfish coward.
If your brain was donated to science, science would return it. So stop it."
"The chances are you're a fun, solid, respectable human being. Don't be a pillock."
A pillock is British slang for someone who does something stupid.
The commercial for Budweiser, the largest-selling beer in the United States, is one of several commercials to air during Super Bowl 50 from the parent company of Anheuser-Busch.
The Budweiser Clydesdales, the enduring commercials about the massive horses from Scotland, will also return during the game between the Denver Broncos and the Carolina Panthers. The Budweiser Clydesdales have appeared in commercials during the Super Bowl every year since 1986.
Mirren won Academy Award for Best Actress in 2005 for her portrayal of Queen Elizabeth II in "Queen." She was also nominated for Best Actress in the 2009 film "The Last Station."
Numerous other actors, actresses and musicians, including Ryan Reynolds, Steven Tyler and Christopher Walken and others, will also appear in commercials during Super Bowl 50.
According to industry publications, commercials during this year's Super Bowl cost about $5 million per minute.
Mirren ends the commercial with a look of joy on her face. She raises the bottle of Budweiser and says:
"Ah, nice and cold."
Click to read more
and watch the video
or