Hamilton brings Broadway to the Grammy's
Hip-hop musical performs on New York City stage, generating buzz and excitement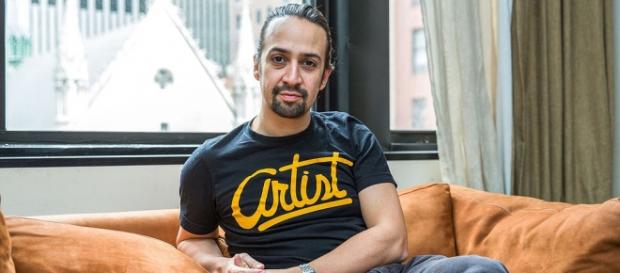 The Grammy's, The Tony's and Lin-Manuel Miranda
The Grammy Awards and Tony Awards may both air on CBS, but that's generally where the similarities end. While the Grammy's spend February honoring the hottest names in popular music, the Tony's tend to present a less glamorous (and less watched) telecast in early June. But with the surging popularity of the musical "Hamilton," the lines between pop music and musical theater have been blurred, creating a smash hit for the show's producers -- and recent MacArthur "Genius" Grant recipient, composer Lin-Manuel Miranda -- and a truly unique Grammy moment. 
"Hamilton" an instant hit
Almost immediately upon opening in August 2015, "Hamilton" became one of the most buzzed-worthy shows coming out of New York in more than a decade.
Many have compared its runaway success to the genre-defining rock musical RENT in the mid-1990's. Blending the worlds of rap, R&B, and hip-hop, (Miranda himself has said he was heavily influenced by Jay-Z, Nas, Biggie Smalls, and Big Pun while writing the show), and the defining early years of American history to create a captivating and truly unique theatrical experience.
Tickets are nearly completely sold out through to early 2017, and the show's cast recording rose to the top of Billboard's Top Rap Album chart last November. 
Grammy performance via satellite 
For the Grammy's on Monday night, the cast performed the show's opening number live from the Richard Rodger's theater via satelite to the main telecast in Los Angeles. As with most Broadway shows, they're not usually perform on Monday evenings, but had a packed house of friends and family members to witness the special, once in a lifetime performance. The audience in New York waited up quite late for the special one-off -- it had initially been reported that the cast would open the Grammy's around 10pm NYC-time, but they were bumped by Album of the Year winner Taylor Swift and did not appear until about 90 minutes later.
Shortly after the charged performance, the award for Best Musical Theatre Cast Album was announced live on-air. Upon hearing their show announced, the jubilant cast of a few dozen performers bounded from the wings of the theatre to be handed their award by a waiting Stephen Colbert on stage, (the Late Show host is an avid fan of the musical). A teary-eyed Miranda thanked a list of people through spoken word and rap, including "The Roots crew," as the band better known as Jimmy Fallon's house band executive produced and played on the cast recording, his wife Vanessa, and his young son Sebastian.
"Hamilton" may have broken down some barriers between musical theatre and mainstream music, but it's safe to say we won't be seeing another Grammy night like this again.
Click to read more
and watch the video
or