Grateful Dead memories: Valentine's Day 1968, Carousel Ballroom
San Francisco concert provided template for Dead's Anthem of the Sun album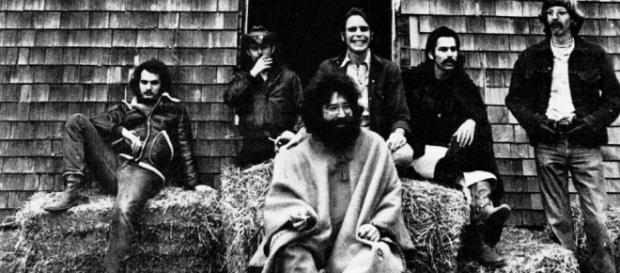 Carousel Ballroom and Anthem of the Sun
You love each other, and you're looking for that perfect Valentine's Day Grateful Dead show to celebrate, right? you could do worse than February 14th, 1968 -- the premiere night of San Francisco's Carousel Ballroom.
If you've heard the Dead's infamous Anthem of the Sun album, you've at least heard the Alligator jams from that show. The vocal reprise comes from the Los Angeles Shrine Expo Center, November 10th, 1967.
Indeed, the song order of Anthem is taken practically wholesale from the second set of this awesome show: Cryptical Envelopment>The Other One>Cryptical Envelopment, New Potato Caboose, Born Cross Eyed, Alligator, and Caution (Do Not Stop on Tracks).
The entire show is a prime example of psychedelic 60s Dead, with the transitions from balls-out jams to Pigpen-styled blues and a transcendental "Dark Star." It was released in 2009 as Road Trips Vol. 2 No. 2. It is, of course, available for streaming on the Internet Archive.
The show was profiled by David Fricke in Rolling Stone as an "essential" Grateful Dead show. He wrote: "The weightless rapture of "Dark Star" is already in mutating bloom, while "China Cat Sunflower" shows off a Dadaist funk."
Constanten, Weir, and "thick air"
Tom Constanten wasn't in this show, as he was still in the Air Force in February; his stage debut doesn't come until November 23, 1968 in Athens, Ohio. He did play on the Anthem studio sessions, however. "It seemed I would bring a measure of zaniness and out-thereness to the band," he recalled in an interview cited in This is All a Dream We Dreamed, the oral history of the Dead compiled by Blair Jackson and David Gans.
Constanten recalls his role in the transition from "The Other One" to "New Potato Caboose" as "whipping a swirling maelstrom into an explosion." One of his innovations was to spin a kid's top on the soundboard of a piano. It sounded like a "chainsaw being taken to the piano."
And of course, there's Bob Weir's famous request for "thick air." As Weir explains it in Dream:
I announced, "Right here, I want the sound of thick air."...I wanted a little bit of white noise, a little bit of compression. I was thinking about kinda like the buzzing that you hear in your ears on a hot, sticky summer day. Dave Hassinger throws up his hands and says, "Thick air. He wants the sound of THICK AIR. Thick air! He wants the sound of thick air" -- as he's walking out of the studio. So we carried on without him.
So, this Valentine's Day, give your loved one a heart full of Bobby's thick air.
Click to read more
and watch the video
or