Dead and Company announce summer tour
Schedule mixes Mets, Red Sox stadiums with amphitheaters; West Coast dates come later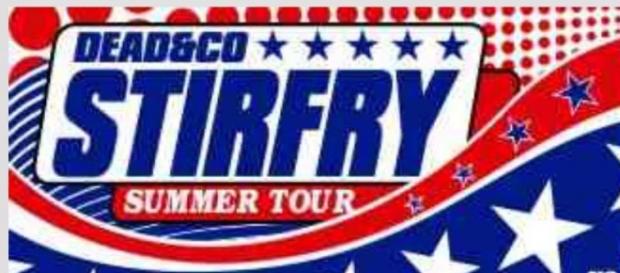 The Dead and Company summer tour is official -- and "Stirfry" got it right.
The dates were first leaked on the GratefulDean blog by Dean Sottile, who presented a hand-scrawled list of dates by someone known only as "Stirfry."
Stirfry is a "legit m--f--er, that's all I can tell ya," Sottile wrote. And indeed it turns out that Stirfry is.
And it's an interesting list of venues, mixing indoor-outdoor amphitheatres like the PNC Music Pavillion in Charlotte, North Carolina (June 10) with stadiums like Citi Field in New York (June 25) and Boston's Fenway Park (July 15 and 16).
Here's the complete, official list of dates.
June 9 - Bonnaroo Festival, Manchester, Tennessee
June 10 - PNC Music Pavillion, Charlotte, Tennessee
June 16 - Riverbend Music Center, Cincinnati, Ohio
June 17 - Klipsch Music Center, Noblesville, Indiana
June 20 - BB&T Pavillion, Camden, New Jersey
June 21 - Saratoga Performing Arts Center, Saratoga Springs, New York
June 23 - Jiffy Lube Live, Bristow, Virginia
June 25-26 - Citi Field, New York, New York
June 28 - Xfnity Theatre, Hartford, Connecticut
July 2-3 - Folsom Field, Boulder, Colorado
July 7 - DTE Energy Music Theatre, Clarkston, Michigan
July 9-10 - Alpine Valley Music Theatre, Elkhorn, Wisconsin
July 13 - First Niagara Pavilion, Pittsburgh, Pennsylvania
July 15-16 - Fenway Park, Boston, MA
Prices for the shows at the New York Mets stadium, Citi Field, range from $45 to $150.
The mix of venues is so unusual that many Deadheads doubted the legitimacy of Sottile's scoop.
"These seem more off than the original rumors," one fan wrote."Now I'm sure they will sell more in the summer than the fall ... but Fenway holds like 35k why play two shows to half full venues, it makes no sense."
"Wouldn't it be the sh-- if Stirfry was right?" another head posted in excitement.
Well, he was.
But, wait, what about the West Coast? As Stirfry's note says, a West Coast tour will be scheduled for later in the year, with dates in Washington, Utah, Arizona and California.
Live Nation presale tickets for the Charlotte and Alpine shows open on February 12 at 10 a.m. Citi cardmember presale for Noblesville, Camden, Saratoga Springs, Hartford, is February 9. Bristow, outside of Washington D.C., and Clarskton, outside of Detroit, go on sale with no presale on February 13.
American Express cardholders (and Mets season ticketholders) can buy ticks for the Citi Field shows starting February 9.
Click to read more
and watch the video
or