Celine Dion appears at heartfelt memorial service for late husband
In a final public goodbye, Celine, friends and family offer a tribute to Rene Angelil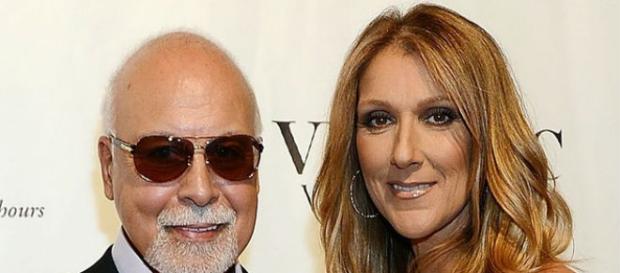 Celine Dion, 47, gave tribute to her recently deceased husband, Rene Angelil, 74, at a heartfelt memorial service in Las Vegas at Caesars Palace at the Colosseum on February 3. The service was live broadcast over the Internet so fans all over the world could watch.
Friends and family members were on hand to honor Angelil, who died January 14 of throat cancer. Dion was barely capable of containing her sadness when she talked about her husband to the ceremony goers.
The singer called him the love of her life and said she could feel his love in the room during the heartfelt memorial service.
Heartfelt memorial service brings out many emotions
The heartfelt memorial service brought out a lot of emotions, as Dion shared her thoughts with the crowd.
She praised Angelil for being kind and never hating a soul. She talked about how he had loved life and that he viewed time as a precious commodity. David Foster, a friend of the couple, sang "The Color of My Love," at the ceremony, which was meant to acknowledge the couple's 21-year marriage, as it was sung at their wedding too.
At the end of the speech she said a tearful goodbye to Angelil, saying she loved him, and thanking him, then saying goodnight. Dion also posted a photo on her Facebook page regarding the ceremony, and the photo has so far gotten more than half a million "likes."
Horrible month for Dion with death of husband and then brother
Dion has had to endure what is likely the most horrible month this past few weeks, as not only her husband died, but her brother also died a few days later, also from cancer.
Dion and her husband had three children, including Rene Charles (15) and twins Eddy and Nelson (5-years old). She said it will be hard for all of them to go on without Rene.
He was buried January 22 after a ceremony at the Notre-Dame Basilica in Montreal, where René-Charles presented the eulogy. He was put to rest at the Notre-Dame-des-Neiges cemetery during a private graveside ceremony.
Dion herself didn't do any of her songs during the heartfelt memorial service, but in the background there was a display shown of her discography, as well as an instrumental music version of one of her hits, "Because You Loved Me," which played as an interlude during the Las Vegas tribute to her husband.
https://upload.wikimedia.org/wikipedia/commons/6/61/C%C3%A9line_Dion_Ren%C3%A9_Angelil_2012.jpg free to use, share or modify even commercially, Wikipedia
free to use, share or modify even commercially, Wikipedia http://static.anygator.com.s3-website-eu-west-1.amazonaws.com/static-anygator2/thumbs/au/0d/0d0a17f3862c01b8733701f81b93cce026d8a11f/big.jpg
Click to read more
and watch the video
or