After almost 20 years, the cast of "Ally McBeal" is still going strong
A look back at FOX's hit show, "Ally Beal" and where some of the cast members are now.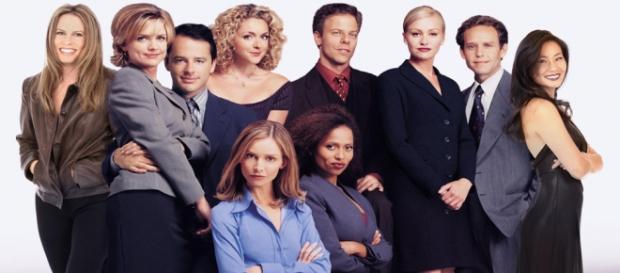 It's been almost 20 years since the cast of "Ally McBeal" premiered with its short skirts and off color humor in 1997 and created household names like Lucy Liu, Portia de Rossi and Jane Krakowski. The courtroom comedy from David E. Kelly wowed audiences with it's fantastical daydreams juxtaposed against compelling legal cases in a show that can only be called unorthordox.
However, there now seems to be a recent resurgence of the former cast with Greg Germann, Peter MacNicol and Ally McBeal, herself, Calista Flockhart reappearing as part of an ensemble cast or as recurring guest stars on your favorite TV shows.
Calista Flockhart
Back in 1997, Flockhart was an unknown actress who became a household name because of her portrayal of the quirky, short skirt wearing, forlorn lawyer, Ally Beal.
In the years following the show's 2002 demise, Flockhart's personal life took center stage when she became the third wife of Hollywood legend Harrison Ford. She later had a 5-year stint on ABC's family drama, "Brothers & Sisters", but it never matched her "Ally McBeal" success. Now Flockhart can be seen playing Daily Planet Arts & Entertainment editor Cat Grant on CBS's "Supergirl". 
Greg Germann
Germann portrayed unapologetic boss to McBeal, Richard Fish. In this tailor made role, Fish hurled all sorts of rude, vile and entertaining insults at his colleagues, was overly obsessed with money and it only made you love him more.
Since the show's end, Germann has bounced around televisoin, most notably on, "About A Boy" but did not find a stable home until now. Germann will have a recurring guest role on the second half of season five as Hades of Disney's "Hercules" in ABC's "Once Upon A Time".
The show's spring premiere is on March 6. Not bad for a guy who turns 58 on February 26th. Bygones.
Heroes. Villains. New Worlds. Adventure. Love. #OnceUponATime returns with its 100th episode on Sunday, March 6! https://t.co/KzYq35Aozm

— Once Upon A Time (@OnceABC) February 21, 2016
Peter MacNicol
Peter MacNicol was the lovable, stammering lawyer on "Ally McBeal" who got the hot chick, Nelle Porter (Portia de Rossi). His catch phrases like Poughkeepsie and his fascination with Barry White,made him a perfect companion for McBeal. Now MacNicol can be seen in his recurring role on ABC's "Agents of Shield" as Professor Elliot Randolph.
Portia de Rossi, Lucy Liu and Jane Krakowski
Portia de Rossi was another unknown when "Ally McBeal" started. That would soon change with her roles on "Arrested Development", "Nip/Tuck" and more recently "Scandal". She also the wife to talk show host, Ellen DeGeneres.
Lucy Liu portrayed Richard Fish's equally outspoken girlfriend, Ling Woo but it was her role as assassin Oren Ishi in Quentin Tarrantino's "Kill Bill: Vol.
1" and "Kill Bill: Vol. 2" that made her a certified star. She can currently be seen as the first female Watson in CBS's "Elementary".
Jane Krakowski was the lustful and lonely executive assistant to Richard Fish, Elaine Vassal. Since the show ended Krakowski has made a name for herself as the demanding actress Jenna Maroney on "30 Rock" and can be seen touting Tropicana 50 in a slew of commercials. 
Gil Bellows, Courtney Thorne-Smith, Lisa Nicole Carson and Vonda Shepard
The other "Ally" cast members have experienced success but none are currently in any notable TV shows.  Billy Thomas (Gil Bellows) was McBeal's married former sweetheart. He has just wrapped production on several films. Billy's wife, Georgia (Courtney Thorne-Smith) ended a regular TV gig in 2015 with "According To Jim" and both Ally's roommate, Renee (Lisa Nicole Carson) and show musician Vonda Shepard are not currently working on any projects.
Click to read more
and watch the video
or