Adele's highly-anticipated Grammy performance ruined by technical glitches
Adele later explained on Twitter that Grammy performance mishap was caused by microphone falling on strings of accompanying piano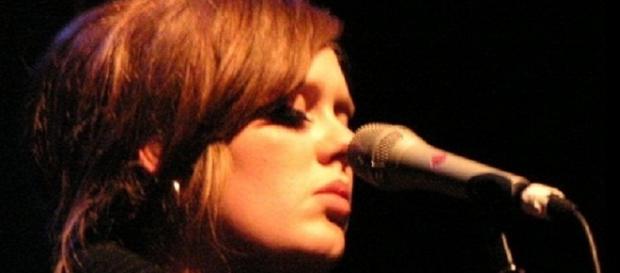 Glitch in Grammy performance
Adele, trusted by loyal fans as a flawless live performer, appeared to struggle through her performance of "All I Ask" at the Grammy's Monday night in Los Angeles. Adele sounded out of tune, with a discordant jangle of guitar sounds and audio cuts marring her performance. It was clear to distraught fans that something had gone horribly wrong.
Fans on Twitter couldn't believe that a pitchy, out of tune performance was coming from Adele, as she's known world wide for her stellar live performances.
Singer Nicole Nordeman rushed to defend the superstar:
Adele's pitch is consistently & historically flawless. FLAWLESS. That was 100% an audio issue & she was fighting hard from go. Hush, ya'll.

— Nichole Nordeman (@nicholenordeman) February 16, 2016
Rumors flourished on Twitter about what went wrong: Adele's guitarist was trying to sabotage her.
The extra guitar sound was from Justin Bieber's band warming up.
Here's a snippet of Adele from the live show. Did we hear the same thing? #Grammys pic.twitter.com/K4kW6CtkCW

— Carly Mallenbaum (@ThatGirlCarly) February 16, 2016
Adele's fans mad
Angry Twitter fans were out for blood on her behalf:
Sound guy at #GRAMMYs needs to leave the country after debacles with Bieber and Adele. Folks, if you can't hear, you can't sing in tune.

— Gregory Thornbury (@greg_thornbury) February 16, 2016
Adele took to Twitter soon enough to confirm there had been technical issues. She explained to fans that her Grammy performance had sounded "out of tune" due to a glitch caused by a microphone falling on the strings of the accompanying piano.
The piano mics fell on to the piano strings, that's what the guitar sound was. It made it sound out of tune. Shit happens. X

— Adele (@Adele) February 16, 2016
Because of it though... I'm treating myself to an in n out. So maybe it was worth it.

— Adele (@Adele) February 16, 2016
Organizers: 'There was a brief 5-8 second technical issue'
CBS also explained: "There was a brief 5-8 second technical issue that was out of our control."
Recording Academy President Neil Portnow acknowledged there had been technical issues and that additional problems occurred when audio technicians, struggling to rectify the problems, switched to a backup system.
The switch caused the audio to cut for a few seconds.
Although she reacted briefly, with a look of dismay registering on her face, Adele managed to maintain her composure. She kept singing despite the technical issues that marred the moment of her return to the Grammy's after a four-year break. But she was unable to hide her disappointment when she returned to the audience. She appeared upset as she discussed the glitches with her partner Simon Konecki, who tried his best to comfort her.
Adele later gave a shout out to Kendrick Lamar, who took home five awards: best rap album, best rap performance, best rap song, best collaboration, and best music video.
"I love you Kendrick. You are amazing," Adele tweeted.
A night of disappointments and glitches
It was indeed a night of disappointments and glitches. Taylor Swift, who won three Grammy's, shed tears over missing a note during her performance of "Out of The Woods." Justin Bieber's performance of "Where Are U Now" was also beset with glitches.
Rihanna was forced to cancel her performance minutes before the show, on doctor's advice. She reportedly had a throat infection. Lauryn Hill's planned duet with The Weekend was canceled at the last moment.
Click to read more
and watch the video
or