Rob Lowe Read the Bible for New Role
A Quick Overview of NBC's Quirky New Series: You, Me and the Apocalypse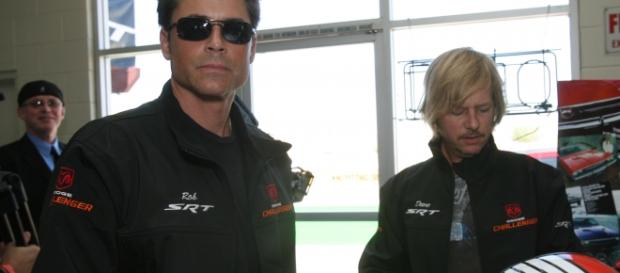 He's not a priest but Rob Lowe gets to play one on TV in You, Me and the Apocalypse, the daring new NBC series about the end of the world. While he doesn't go so far as to say he found God, he does admit reading the Bible as preparation for his role as a Roman Catholic priest re-acquainted him with one aspect of the Good Book.
"If you're looking for guidance, then obviously you get different things from it depending on what you're looking to have answered.
But overall, I'm just always struck with the language. It's so beautiful, and I'm also struck with things like how many common phrases we have in our everyday casual vernacular that comes from the Bible.
So, you know I'm not breaking any new ground when I say it's such a work of depth and inspiration and beauty that I'm kind of amazed each time I open it."
Lowe, who also stars on Fox's The Grinder, is part of an international cast that includes former Will and Grace star, Megan Mullally, The Office's Jenna Fischer and the character actress Bronagh Gallagher (Sherlock Holmes), Paterson Joseph (The Leftovers), Lloyd Owen (Apollo 18) and Pauline Quirke (the UK version of BroadChurch and the UK's Emmerdale).
The lives of some very different people collide as the world faces an epic ending when it's ascertained that a comet is rapidly flying toward earth and the results will be complete extinction like no one has seen (or in this case will see).
The 10-episode series follows their lives on opposite sides of the globe with just 30 days before the comet hits.
An office worker in England is still in mourning for his wife that disappeared seven years ago. A woman in the United States has taken a computer hacking charge for her son and is now going to prison. Meanwhile, a real hacker is basking in his cleverness and infamy. In prison, the innocent woman meets a white supremacist. In Rome, a nun uncertain about her future has been re-located to the Vatican. There she meets a tough-talking, smoking priest (Lowe) that appears to do nothing to reassure her.
How these people interconnect is half the story in 'Apocalypse.' The other half is the will-it-or-won't-it soap opera of whether the world will end or is truly ending. Part comedy, part mystery, part drama (and then some) make this an entertaining, quirky story, and the tight editing keeps one on their toes as each scene ends quickly and blends into another.
Although longer than the average UK TV show, the look and feel of the production is definitely like the better BBC imports. Lowe did double duty while filming this series and The Grinder.
"I would travel back and forth," says Lowe. "I'd do three weeks in Europe on You, Me and the Apocalypse and then I would fly back here and work on The Grinder. And so to do both at the same time was a challenge, but also really fun. And then we finished Apocalypse in a time where I could then really do the meat of The Grinder which I'm still doing today."
Click to read more
and watch the video
or