Pixels and Fifty Shades of Grey take the lead in Razzie Award nominations
Fifty Shades of Grey earned a shortlisting for the Worst Picture prize at the Razzie Awards.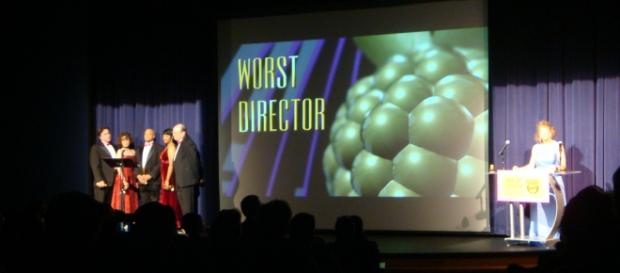 Fifty Shades of Grey has earned a shortlisting for the Worst Picture prize at the Razzie Awards. The film, produced by Sam Taylor-Johnson as an adaptation of EL James' bestselling erotic novel, finds itself in pole position for uninspiring releases in cinema. The movie is up against top contenders such as Fantastic Four, Adam Sandler's Pixels, Paul Blart: Mall Cop 2 and Jupiter Ascending.
The nomination of Fifty Shades comes against a backdrop of massive global box office success.
However the film received negative reviews from critics. It earned six nominations for various categories, including Worst Director, Worst Actress and Worst Actor, Worst Screen Combo and Worst Screenplay.
Dakota Johnson and Jamie Dornan earned embarrassing nominations for the Worst Actress, Worst Actor and Worst Screen Combo. Last year's Oscar winners Julianne Moore and Eddie Redmayne also took a tumble from being top performers to earn Razzie Awards nominations. British actor Redmayne was also on the receiving end thanks to a nomination for Worst Supporting Actor. The accolade was in recognition of his lackluster performance in Jupiter Ascending. On the other hand, Julianne Moore was nominated following her below par contribution to the film Seventh Son.
Other top names that fell into the Razzie melting pot include Adam Sandler, Jennifer Lopez for The Boy Next Door, Gwyneth Paltrow for Mortdecai, Rooney Mara for her role in Pan and Channing Tatum for Jupiter Ascending. Razzie Redeemer award nominees include Sylvester Stallone, Will Smith, M.
Night Shyamalan and Elizabeth Banks.
Here are some of the nominees for the Razzies in various categories:
Worst supporting actor
Jason Lee, Alvin and the Chipmunks: Road Chip
Eddie Redmayne, Jupiter Ascending.
Chevy Chase, Hot Tub Time Machine 2 and Vacation
Josh Gad, Pixels and The Wedding Ringer
Kevin James, Pixels
Worst supporting actress
Michelle Monaghan, Pixels
Julianne Moore, Seventh Son
Amanda Seyfried, Love the Coopers and Pan
Kaley Cuoco-Sweeting, Alvin and the Chipmunks: Road Chip and The Wedding Ringer
Rooney Mara, Pan
Worst remake or sequel
Alvin and The Chipmunks: The Road Chip
Fantastic Four
Hot Tub Time Machine 2
Human Centipede 3
Paul Blart: Mall Cop 2
Click to read more
and watch the video
or