Legendary Eagles guitarist Glenn Frey has died
The musician died this Monday in New York at the age of 67, the band has confirmed.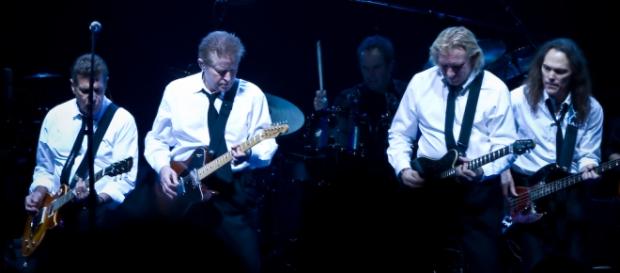 Another week, another legend dead. Founding member and guitarist for The Eagles Glenn Frey has died Monday, the band and family confirmed in a statement. At 67, Frey died from multiple health problems which he had been fighting since late last year. The musician was a key member of The Eagles, having penned hits like 'Tequila Sunrise' and 'Heartache Tonight.' 
"It is with the heaviest of hearts that we announce the passing of our comrade, Eagles founder, Glenn Frey, in New York City on Monday", the band announced today on Facebook and on their website.
Frey had been battling complications from Rheumatoid Arthritis, Acute Ulcerative Colitis and Pneumonia, The Eagles revealed. They said he "fought a courageous battle" but wasn't able to resist the conditions. 
The band and Frey's family also thanked everyone who prayed for the musician and expressed the deepest sadness for his passing.
"Words can neither describe our sorrow, nor our love and respect for all that he has given to us, his family, the music community and millions of fans worldwide", they wrote. The statement was signed by his wife Cindy Frey, daughter Taylor Frey, sons Deacon and Otis Frey, bandmates Don Henley, Timothy B. Schmit, Joe Walsh and Bernie Leadon, plus manager Irving Azoff. They also shared the lyrics to "It's Your World Now", which were written by Frey and Jack Tempchin.
Known for one of the greatest bands in history, Frey continued to have some degree of success as a solo artist after The Eagles split, 36 years ago, and even got into acting. 
Fans and musicians pay tribute 
News of his death spread quickly on social media and fans are taking to Twitter and Facebook to pay tribute to Frey, who also co-wrote 'Hotel California' and contributed with vocals to multiple songs. 
"What's wrong with 2016?" is what a lot of them are asking, as quite a few highly talented musicians and actors have passed since the beginning of the year – David Bowie, Natalie Cole and Alan Rickman being at the top of the list. All of them under 70, and in Bowie's and Rickman's case after a battle with cancer (Cole died of heart failure).
The untimely deaths of these artists have happened so close to each other that both fans and the industry itself have had no time to mourn their losses. It certainly feels as if almost everyday there's another talent passing. 
 "Glenn Frey" became the worldwide top trending topic on Twitter almost instantly, as more people are learning the news and remembering his work. 
Glenn Frey, you will be sorely missed. Thank you for all you gave us.

— Sheryl Crow (@SherylCrow) January 18, 2016
R.I.P yet another legend today. Glenn Frey of the the Eagles.... Ur music is imbedded in my brain til the day I die, u will be missed!!

— OneRepublic (@OneRepublic) January 18, 2016
so many legends leaving our planet recently. im so grateful for all they gave to us through their creativity + passions 🙏🏼

— christina perri (@christinaperri) January 18, 2016
Rostrum Records president Benjy Grinberg said Frey's music "will live on", producer David Boreanaz tweeted  "God Bless you" and guitarist Nils Lofgren wrote this was "too much.
Fearless Vampire Killers singer Laurence Beveridge also expressed his sadness, calling Frey "another great gone", while Miles Teller said he was "one of the greatest voices, musicians, contributors and collaborators to Rock 'N Roll music."
Click to read more
and watch the video
or