Lady GaGa and Taylor Kinney show off in celebrity nude selfie
Selfie is one of 16 covers for V Magazine, with proceeds going to the Born This Way foundation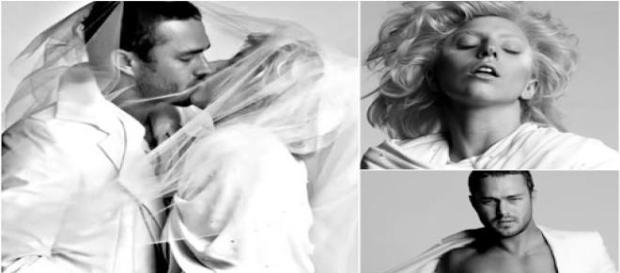 Singer Lady GaGa and her fiancé, Taylor Kinney are set to appear in a celebrity nude selfie in the Spring Preview Issue of V Magazine. The couple are said to have had sex on a paint canvas and then posed in a celebrity nude selfie afterward. In the picture, Lady GaGa is behind Kinney with her arms and legs wrapped around him. The two of them are covered in splashes of paint.
Kinney, from "Chicago Fire," took the selfie via a mirror. Lady GaGa says the seductive pose was her fiancé's idea because he has always enjoyed drawing and painting on her.
She says that when the two were living in San Diego secretly and sleeping on the floor in a shack on the beach, he told her he wanted to make love to her on canvas.
While they never got to fulfill that fantasy then, Lady GaGa says they decided to do it as part of their collaboration to raise money, as well as awareness, on mental illness.
She says they made love on the canvas in Chicago while talking about shootings, terrorism, and how people all over the world are suffering and witnessing violence. She hopes that their making love amid those issues will stand as a reminder that even when people are going through wild and crazy times, they should remember to love each other totally, crazily, and without fear.
V Magazine goes all-out for guest editor GaGa
Lady GaGa is the guest editor for the issue of V magazine that will feature her and Kinney. Each picture has a bearing on GaGa's past, and her rise to stardom. The issue will have 16 covers and all of the money earned from it will go to support her Born This Way foundation, which is an organization that funds research on social-emotional intelligence. The covers feature GaGa posing with people she says have protected and influenced her over the years, and one of those is Kinney.
Others include Karl Lagerfeld, Hedi Slimane, photographer and fashion designer, and artist Daphne Guiness. She says it's all about people coming together to show their passion for art and fashion, as well as to make a statement and change things.
Lady GaGa and Kinney met in 2011 and were engaged on Valentine's Day 2015. The pair has now crossed one thing off Kinney's bucket list, and will hopefully raise money for Gaga's foundation in the process.
Click to read more
and watch the video
or