Harry Styles arrives in U.S. to celebrate his birthday early
The 1D heartthrob is about to turn 22, and he'll be blowing out his candles in the U.S.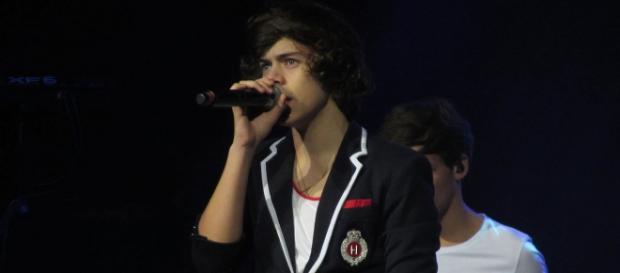 Harry Styles is going in the right direction – at least as far as his American fans are concerned. The One Direction heartthrob landed in LAX on Wednesday, and his entire walk through the airport was documented online, courtesy of dozens of hardworking photogs. Styles finally managed to dodge the mob of screaming fans (and persistent paparazzi questions), and now it appears that he'll be celebrating his birthday in the States, just like he did last year.
An Early Birthday Bash
Styles turns 22 years old on Feb.
1, but he already had a celebration back home with his boys, which it makes it seem as though he won't be headed back to the UK before his big day. Earlier this week, radio DJ Nick Grimshaw posted an Instagram pic of Styles celebrating with pals in London.
The Drag Me Down singer had a big grin on his face as he eyed a plate of gourmet cupcakes loaded with candles.
But then again, Styles always celebrates his birthday in style. According to MTV, last year the singer's star-studded birthday bash included an impressive list of A-list pals such as like Chris Martin, Jennifer Lawrence, Adele, David Beckham, Cindy Crawford, Courteney Cox, Adam Levine and, yes, Kendall Jenner. For his 21st, the birthday boy was feted with four cakes with his face painted on each one of them. Our takeaway: Harry Styles likes cake.
Who Will He Celebrate With This Year?
Of course, the big question is, if Styles plans to celebrate his birthday in the U.S. who will he spend it with? It's no secret that the 1D hitmaker has been spending a lot of time with Kendall Jenner.
The singer has been linked to the Keeping Up With the Kardashians star on and off since 2013, but they've never made things official despite being spotted together on dinner dates, a snowboarding trip and a yacht in the Caribbean. The two even rang in the New Year together less than a month ago in St. Barts. So it wouldn't be surprise if Kendall Jenner is by Harry's side as he turns 22. And if she's not, well, there's plenty of 1D fans who will be happy to share some cake with him.
Click to read more
and watch the video
or