David Bowie's mid-seventies explained
The music, panache, and commitment to his art remain, and so many wonderful things are attached to that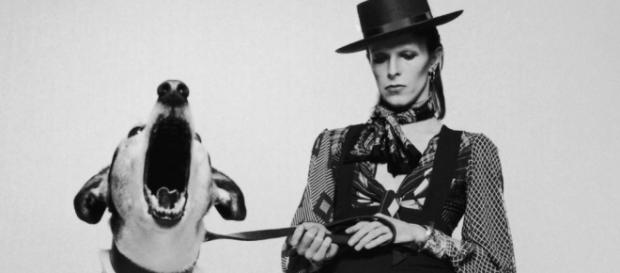 Many words are now sprawling around the media about our dear lost uncle David Bowie, but the reality is that very few of us have met him. This makes him a "celebrity," and a product of our collective imagination. The music, panache, and commitment to his art remain, though, and so many wonderful things are attached to that.
In the mid-1970's, at the peak of his blizzard-like cocaine consumption, Bowie was running in and out of the principles of fascism.
The thing was, it was yet another costume, as seductive as Kabuki, Ziggy Stardust, or the Thin White Duke – and just as meaningful.
By 1974's Diamond Dogs, Bowie was a slave to cocaine, by all accounts hoovering it up off his sheepskin rug on the top floor of his Kensington townhouse after he'd spilled it while drunk on champagne.
While this may have led to fun frolics with Mick Jagger and his then wife Angie, it also led down another road of isolated paranoia. Bowie's legendary acuity, however, didn't prepare him for the unforeseen boredom of endless touring and the lifestyle. With great power comes great responsibility, but few saw any reason to let their new cash cows know this.
This game would bring a more reflective soul such as Bowie retreated inside himself. Much as he would partake in the bonhomie and basic early laddism offered him, his naturally shy nature would rather lead him often to an observational corner.
By the mid 70's, Bowie's cocaine intake was already legendarily perilous, and by the time of "Station To Station," acute. As captured in Alan Yentob's "Cracked Actor" documentary, Bowie was immersed in an utterly detached hinterland, being driven from void to void.
His art was at its peak, but his psyche and physicality dangerously on the edge.
Around this time, he was holed up in a Los Angeles mansion, living on peppers, milk, and cocaine between gigs where he would run his fingers between his dry lips and gums to separate them in readiness for his performance. Added to this emaciation was a growing interest in the black magick of Aleister Crowley, and the hold his myth held over the black-country metal scene and wider culture of the time.
Crowley had been a Victorian-era aristocrat who spent his landed riches on Dionysian pleasures, sometimes involving acts allegedly close to sacrifice and other questionable practices. His goat-like "godhead" legend spread down to the nu-power of the seventies rock gods, understood through the influence they held over their fans.This power-worship seeped into a more esoteric interest for Bowie, where he struggled for a sense of self in the ultimately senseless Los Angeles desert. Behind permanently drawn curtains, he would attempt to conjure spells and allegedly attempt to summon the spirit of Adolf Hitler through a Ouija board, to unknown results.
Pentagrams would be drawn on the walls of his enormous flat while waiting for his next delivery.
With Bowie's well-documented self-preservation skills eventually surfacing, he in time managed to return to London, organizing a media and fan waiting party to receive him giving a Nazi salute from the open roof of a black Mercedes. Bowie was lost and found at last in his hometown, to utter media derision.
After finally accepting he had grown out of his home country – possibly for tax purposes – he decamped to Berlin and Switzerland for the foreseeable future, starting divorce proceedings from his hated wife Angie, and eventually winning custody of son Duncan. The clean up slowly began, with Bowie moving to Berlin with a keen-to-clean-up Iggy Pop, and thus began the most creative period for the pair of them.
Click to read more
and watch the video
or