Coachella 2016 line up to include a reunited Guns N' Roses
The desert music festival is also reuniting LCD Soundsystem for this year's show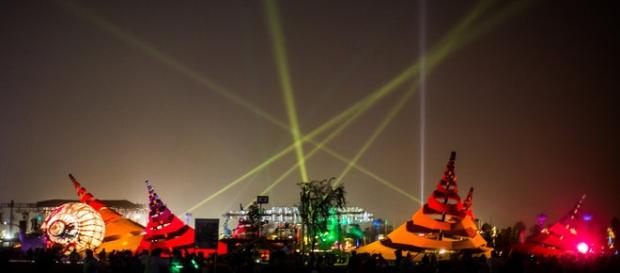 Guns N' Roses are confirmed to appear at Coachella 2016, as this year's festival runs from April 15-17, as well as April 22-24. Coachella 2016 takes place in Indio, California.
It had been rumored that Guns N' Roses would appear at Coachella 2016 for the past few weeks, and it will be the first time the band has been reunited in 20 years. Guns N' Roses will be the headliner for both of the Saturdays at the famous music festival, and some of the other acts following them are scheduled to be Ice Cube, Disclosure, and LCD Soundsystem.
Guns N' Roses not the only group to reunite at Coachella 2016
LCD Soundsystem is another group that's reuniting to play the festival, as the last time they did so was at a farewell performance back in 2011.
LCD Soundsystem will be the show's headliner on both Fridays and will be followed by performers Ellie Goulding, Sufjan Stevens, and several others.
In addition, on the last day of the show on both weekends, the headline performer will be Calvin Harris, followed by Sia and Major Lazer. Harris was last seen at the Coachella 2014 music festival, where he played to the festival's second-largest crowd.
Additional musicians to appear include A$AP Rocky, CHVRCHES, M83,Underworld, the Kills, and Rancid.
Guns N' Roses will feature classic lineup
When Guns N' Roses reunites, it will include the classic lineup of frontman Axl Rose, along with guitar player Slash, bass player Duff McKagan, and drummer Matt Sorum. Members are open to the possibility of a 25 stadium North American tour, and, if those negotiations go through, Billboard says that the band wants to get paid $3 million dollars a show and charge between $250 and $275 a ticket.
The Coachella music festival first came about in 1999 designed as an indie and alternative rock festival. Since then, it has become a major attraction during the summer live music season. In the past, several popular groups and solo acts have headlined, including Jay Z, Snoop Dogg,Madonna, Amy Winehouse, Prince, Wu-Tang Clan, Coldplay, Paul McCartney, Arcade Fire, and AC/DC.
In 2015, the festival had more than 200,000 attendants and made more than $84 million dollars in ticket sales. Coachella 2016 will likely continue the trend of getting bigger each year, as it was originally a one day event.
Click to read more
and watch the video
or