Alyssa Milano, breastfeeding advocate debates Wendy Williams
Milano surprised to learn that Williams is uncomfortable with public breastfeeding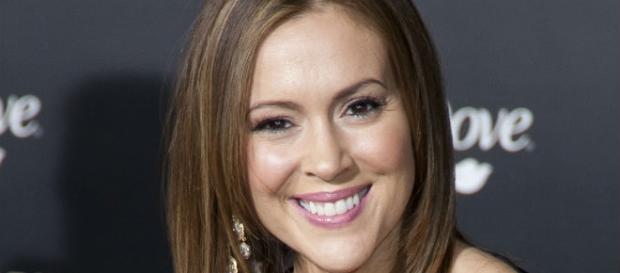 Alyssa Milano, 43, well known for her role as Phoebe on the television series "Charmed," is a staunch breastfeeding advocate for women who want to be able to breastfeed in public. She is also a mother herself and has two children, four-year-old son Milo and 16-month-old daughter, Elizabella. She was recently embroiled in controversy because of pictures she posted of her feeding the younger child.
Milano was a recent guest on the Wendy Williams Show, and debated with Williams, 53, about breastfeeding and Milano's advocacy.
Milano is known for using social media to promote awareness of public breastfeeding, which is a hot and trending issue in the US.
Milano promotes motherhood as a breastfeeding advocate
Milano spoke out on the topic of breastfeeding in public, and says she was surprised to find out that Williams was against it.
Milano says she takes her advocacy role very seriously. She says she is shocked that some people have such strong opinions on something that is actually completely natural.
However, Williams countered and told Milano she didn't need and didn't want to see breastfeeding done in public. She said that she always went to her car to do it and didn't do it out in public somewhere like a big box store. Williams has a 15-year-old son, Kevin Hunter Jr., who she breastfed for about two weeks.
Milano, Williams argue about sexual aspect of breasts
Milano and Williams discussed the sexualized view of women's breasts, talking about the recent appearance of Miley Cyrus at the VMAs where she wore an outfit in which her nipples were only hidden by suspenders. Milano asked why it was okay to show Cyrus, but not okay to show a woman breastfeeding.
Williams admitted to Milano that she did believe breasts were meant more to be sexual than for feeding babies because breastfeeding only lasts a short amount of time, and the rest of a woman's life her breasts are a sexual object. The two women eventually had to agree to disagree about this controversial subject.
Milano feels breastfeeding mothers shouldn't hide themselves
Milano says that women should have the right to breastfeed in public if they want to, and 49 states have already passed laws that allow it. She says they shouldn't have to hide away or feel badly about it. As a breastfeeding advocate, she says she supports moms and that it is a very special time in a woman's life.
Images from Wikipedia and released under CC BY 2.0 license
Click to read more
and watch the video
or