11 Intimate Facts about Johnny Depp You Didn't Know
Snuggle Up Close to Your Favorite Scissor-handed, Swashbuckling, Killer Barber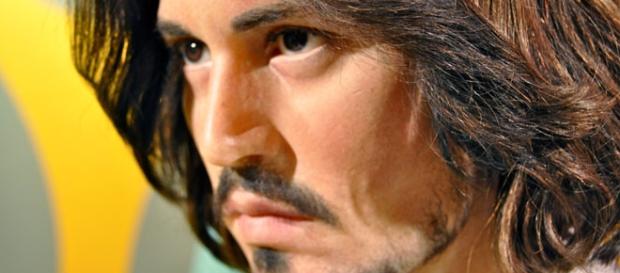 It's amazing what a little cyber-stalking can yield. Below are 11 up-close-and-personal facts about Johnny Depp, collected from various interviews and articles.
1. Johnny Depp Dropped Out of High School
At the age of 15, Depp quit school to pursue his dream of becoming a musicians. Two weeks later he came to his senses and tried to return -- but the principal wouldn't accept him back! He told a young Depp to keep following his dream.
2. ...Actually a Pretty Good Musician
Depp's early success as a guitarist included his band The Kids opening up for Iggy Pop.
He later collaborated with the Rock City Angels, cowriting Mary. In 1993, he helped form the band P with Butthole Surfers frontman Gibby Haynes, and Red Hot Chili Peppers bassist Flea once joined them on stage.
3. Worked as a Telemarketer
While struggling as a young musician, Depp earned extra cash telemarketing for a pen company. Remember that next time you abruptly hang up on a telemarketer.
4. A Troubled Teen
If you couldn't have guessed already, Depp's childhood and teen years had  some rocky patches. Until the age of 7, Depp and his parents moved constantly, living in over 20 cities. His parents later divorced, and all the stress culminating in Depp cutting himself. He still carries some of those scars today.
5. Nicolas Cage got Depp his Start
Lori Anne Alison, Depp's ex-wife and professional makeup artist, introduced him to a young Nic Cage, who told the musician to try acting. Cage even introduced Depp to his agent to get him his first job.
6. Winona Forever, Wino Forever
After starring in the legendary romance Edward Scissorhands with actress Winona Ryder, the two became an item and Depp got a tattoo reading "Winona Forever." Obviously, Winona wasn't forever, and he later had the tattoo modified to read "Wino Forever."
7. Co-owned the Nightclub River Phoenix Died at
Depp co-owned L.A.'s The Viper Room.
His band at the time, P, frequently played shows there, and a strange coincidence occurred. While overdosing right outside the club, the band played their song "Michael Stipe," with the lyrics "I'm glad I met old Michael Stipe, I didn't get to see his car. Him and River Phoenix were leaving on the road tomorrow" and "but we didn't have a part, not a piece of our heart, not Michael, River Phoenix or Flea or me."
8. Honorary Member of the Comanche Nation
The Comanche Nation awarded Depp after his performance in The Lone Ranger, an honor that Depp called "possibly the greatest momento." Depp claims his great-grandmother was either Cherokee or Creek.
9. Likes to Go Commando
Whether in acting or in personal comfort, the actor doesn't like to be restricted!
10. Bibliophile
"I'm a complete and utter geek for old book," says Depp, who likes to read 4 or 5 books at a time. More than just an avid reader, he likes to hunt out first and rare editions.
11. Philanthropist
He may own a Caribbean island, but you can't call Depp stingy.
There are numerous and wide-ranging reports of his generosity:
gave out $50s and $100s to the homeless outside the Viper Room.
donated £1 million to the hospital that treated his daughter when she had an e. coli infection (and also dressed like Captain Jack Sparrow and read stories to sick children there).
along with Jude Law and Colin Farrell, he stepped in to play the remaining parts of Heath Ledger's role after his death for the movie The Imaginarium of Doctor Parnassus. He gave his salary to Ledger's daughter Matilda.
once left $4,000 tip in Chicago.
during a mugging, the robber recognized him and said, "I can't take money from Captain Jack Sparrow." Depp gave him some money anyway!
financed the absurd funeral wishes (to shoot his ashes out of a cannon) of friend, writer, and inspiration for a couple roles, Hunter S. Thompson.
What do you expect from a teen telemarketer who went on to top Forbes' list of Top Overpaid Actors?
Click to read more
and watch the video
or