Singer Scott Weiland died, found dead on tour bus
Grunge music innovator and Stone Temple Pilots, Velvet Revolver front man dies.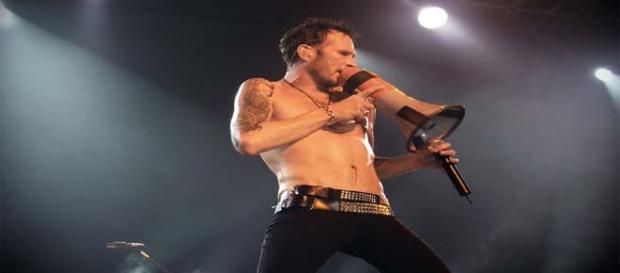 Singer Scott Weiland died on Thursday. The former front man for band Stone Temple Pilots and Velvet Revolver was only 48 years old. Weiland was found dead on his tour bus Thursday about 9 PM, right before his band Scott Weiland & the Wildabouts was supposed to play a gig at the Medina Ballroom in Bloomington, Minnesota.
It is not known yet why Scott Weiland died, but it is a fact that the singer had struggled with substance abuse. The death was confirmed by Weiland's manager, Tom Vitorino, who asked that people respect Weiland's family's privacy.
Twitter explodes with news that Scott Weiland died
As reports of his death started making the rounds of social media, Twitter blew up with tweets. Guitarist Dave Navarro is said to have tweeted that he learned Scott Weiland died, saying that he was thinking about Weiland's family and was "gutted" at the news.
Weiland's photographer wife Jamie also affirmed her husband's death, saying it was true, and she couldn't deal with the press at this time. The two met in 2011 when Jamie was taking pictures of a music video shoot. They were married in 2013. It was the third marriage for Weiland. He is also survived by two children, Lucy and Noah, from a former marriage.
Weiland praised for his musical contribution to grunge
As of Friday, several tributes were praising the Grammy-winner as a legend of grunge music, which is a type of alternative rock that became popular in the 1980s and 1990s. The Consequence of Sound music website said that Weiland would be remembered as one of the greatest, yet most troubled front men for alternative rock.
Grammy awarders the Recording Academy hailed him as an innovator and groundbreaker for the music world and CEO Neil Portnow also said that Weiland was a grunge icon and that his performances would live on forever to inspire rock fans all over the world.
Weiland's death 2nd this year for the band
This is the second time a member of the Wildabouts has been found dead. On March 30, guitarist Jeremy Brown died due to drug intoxication, according to the Los Angeles County coroner. Brown, 34, died right after the release of their album, Blaster.
Weiland is known for forming a band known as Mighty Joe Young with Robert DeLeo, which turned into Stone Temple Pilots in 1989. Later, he formed Velvet Revolver with ex-Guns N' Roses Slash, Matt Sorum and Duff McKagan. Then, he went on to form the Wildabouts. Scott Wieland died and the cause of death is under investigation.
Click to read more
and watch the video
or