Selena Gomez faces lip syncing accusations at Victoria's Secret Fashion Show
Former Disney star blasts haters and puts them in their place with fab performance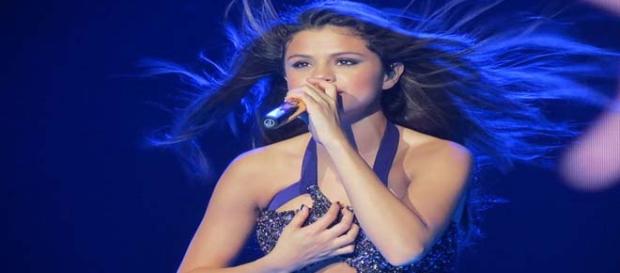 Singer Selena Gomez, 23, faced lip-syncing accusations during this week's 2015 Victoria's Secret Fashion show, and wants everyone who has any doubt about her abilities to know that she "f—king does sing live" during all of her performances.
The singer known for her song, "Hands to Myself," performed along with a group of Victoria's Secret angels dressed in lingerie with a fantasy theme during the fashion show. She sang several songs from her hit albums, such as the just released "Revival" album, singing "Hands to Myself," as well as "Me & My Girls" to the delight of the packed audience.
Some viewers make lip-syncing accusations against Gomez
Gomez was said to have given a very mesmerizing and sexy presentation, however, some viewers didn't believe she was singing live and made lip-syncing accusations against her that Gomez was quick to refute.
The star posted a picture of herself on her Instagram account with the comment that she was definitely singing live.
Many of her fans praised the singer and commented positively about her singing voice and style. Gomez hasd wowed her fans in a lingerie-only music video. In the video she takes off her trench coat to show she is dressed in a plain black bra with matching high waist panties, as is shown rolling around on her lover's bed after breaking into his house.
Gomez appeared sassy with fans after fashion show accusation
Besides posting the picture of herself singing during the Victoria's Secret fashion show, Gomez also shared a picture of herself enjoying some McDonald's French fries and sandwiches prior to the show, saying that was the reason she kept her hand on her stomach during the performance.
Evidently, this showed that criticism was definitely not on the singer's mind prior to her very sexy performance onstage during the Victoria's Secret fashion show. Gomez has faced some body shaming during the past year and said it was something new for her, she added that she didn't care about that kind of stuff and that even though she did gain some weight, it didn't bother her and she actually enjoyed it.
So, Selena Gomez wants her fans, and everyone else to know that all of those lip-syncing accusations are definitely not true and that she sings all of her lyrics to her songs live at all times.
Click to read more
and watch the video
or